Park City Group (NASDAQ:PCYG) posted its quarterly earnings data on Thursday. The technology company reported $0.08 earnings per share for the quarter, topping the Thomson Reuters' consensus estimate of $0.05 by $0.03, Zacks reports. The business had revenue of $5.57 million during the quarter, compared to analysts' expectations of $6.13 million. Park City Group had a net margin of 18.95% and a return on equity of 11.27%.
Shares of Park City Group stock traded up $0.33 during trading on Friday, reaching $7.84. 111,016 shares of the company's stock were exchanged, compared to its average volume of 22,813. The company has a debt-to-equity ratio of 0.01, a quick ratio of 2.50 and a current ratio of 2.50. Park City Group has a 1-year low of $5.64 and a 1-year high of $11.75. The stock has a market capitalization of $148.73 million, a P/E ratio of 52.27, a price-to-earnings-growth ratio of 1.43 and a beta of 1.68.
PCYG has been the topic of several recent analyst reports. TheStreet lowered shares of Park City Group from a "b-" rating to a "c+" rating in a report on Tuesday, October 30th. Zacks Investment Research lowered shares of Park City Group from a "strong-buy" rating to a "hold" rating in a research report on Thursday, November 15th. Finally, ValuEngine cut shares of Park City Group from a "hold" rating to a "sell" rating in a research note on Friday, December 28th.
COPYRIGHT VIOLATION WARNING: This news story was reported by Dakota Financial News and is the property of of Dakota Financial News. If you are reading this news story on another website, it was illegally stolen and republished in violation of U.S. and international copyright and trademark law. The correct version of this news story can be accessed at https://dakotafinancialnews.com/2019/02/09/park-city-group-pcyg-releases-earnings-results-beats-estimates-by-0-03-eps.html.
About Park City Group
Park City Group, Inc, a software-as-a-service provider, designs, develops, and markets proprietary software products in the United States. The company offers ReposiTrak MarketPlace, a supplier discovery and B2B e-commerce solution that is used for sourcing products, and enables to screen and choose suppliers; ReposiTrak Compliance and Food Safety Solutions, which reduces potential regulatory and legal risk from their supply chain partners; and ReposiTrak Supply Chain Solutions, which enables customers to manage relationships with suppliers.
Read More: Net Margin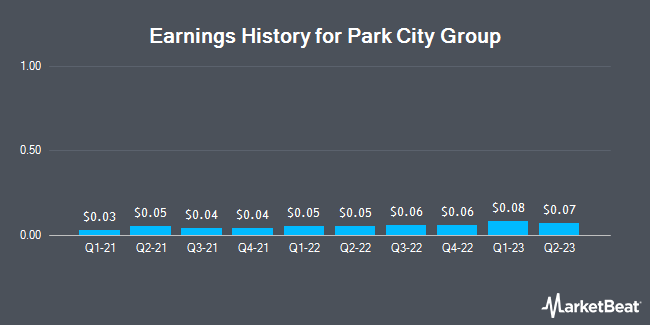 Receive News & Ratings for Park City Group Daily - Enter your email address below to receive a concise daily summary of the latest news and analysts' ratings for Park City Group and related companies with MarketBeat.com's FREE daily email newsletter.