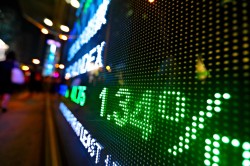 FAT Brands Inc (NASDAQ:FAT) declared a dividend on Friday, February 8th, Fidelity reports. Shareholders of record on Tuesday, February 19th will be given a dividend of 0.12 per share on Thursday, February 28th. The ex-dividend date of this dividend is Friday, February 15th.
FAT stock opened at $5.45 on Friday. FAT Brands has a fifty-two week low of $4.50 and a fifty-two week high of $9.68. The company has a debt-to-equity ratio of 1.76, a current ratio of 0.60 and a quick ratio of 0.60.
In other news, Director John Squire Junger bought 12,657 shares of the stock in a transaction on Thursday, November 29th. The shares were bought at an average price of $5.62 per share, with a total value of $71,132.34. The acquisition was disclosed in a filing with the Securities & Exchange Commission, which is accessible through the SEC website. In the last three months, insiders acquired 13,755 shares of company stock worth $78,010. 1.30% of the stock is owned by corporate insiders.
COPYRIGHT VIOLATION WARNING: This report was originally published by Dakota Financial News and is the property of of Dakota Financial News. If you are reading this report on another site, it was illegally copied and republished in violation of international copyright and trademark legislation. The correct version of this report can be read at https://dakotafinancialnews.com/2019/02/10/fat-brands-inc-fat-to-issue-0-12-dividend.html.
FAT Brands Company Profile
FAT Brands Inc, a multi-brand franchising company, acquires, markets, and develops fast casual and casual dining restaurant concepts. As of January 15, 2019, it owned 7 restaurant brands, including Fatburger, Buffalo's Cafe, Buffalo's Express, Hurricane Grill & Wings, Yalla Mediterranean, Ponderosa Steakhouse, and Bonanza Steakhouse with approximately 300 locations open and 300 under development in 32 countries.
Featured Article: Candlestick
Receive News & Ratings for FAT Brands Daily - Enter your email address below to receive a concise daily summary of the latest news and analysts' ratings for FAT Brands and related companies with MarketBeat.com's FREE daily email newsletter.