Forrester Research (NASDAQ:FORR) will issue its quarterly earnings data after the market closes on Wednesday, February 13th. Analysts expect the company to announce earnings of $0.38 per share for the quarter.
FORR stock opened at $45.84 on Tuesday. The company has a market capitalization of $832.11 million, a price-to-earnings ratio of 55.23, a P/E/G ratio of 3.14 and a beta of 0.52. Forrester Research has a twelve month low of $36.19 and a twelve month high of $50.00.
FORR has been the subject of a number of analyst reports. Barrington Research restated a "hold" rating on shares of Forrester Research in a research note on Thursday, October 25th. BidaskClub upgraded Forrester Research from a "sell" rating to a "hold" rating in a research note on Tuesday, December 25th. ValuEngine upgraded Forrester Research from a "hold" rating to a "buy" rating in a research note on Wednesday, November 7th. Finally, Zacks Investment Research upgraded Forrester Research from a "hold" rating to a "buy" rating and set a $50.00 target price for the company in a research note on Friday, February 1st.
WARNING: "Forrester Research (FORR) Set to Announce Earnings on Wednesday" was originally reported by Dakota Financial News and is the sole property of of Dakota Financial News. If you are reading this article on another website, it was illegally stolen and reposted in violation of United States & international copyright & trademark law. The correct version of this article can be read at https://dakotafinancialnews.com/2019/02/12/forrester-research-forr-set-to-announce-earnings-on-wednesday.html.
About Forrester Research
Forrester Research, Inc operates as an independent research, data, and advisory services company. It operates through Research, Product, and Project Consulting segments. Its primary syndicated research product is Research, which offers clients with access to its syndicated research designed to inform their strategic decision-making.
Featured Article: Asset Allocation and Your Retirement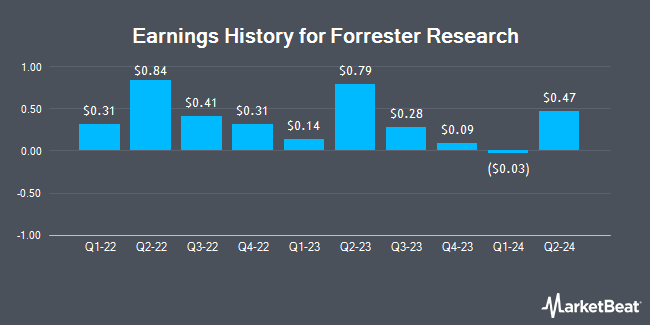 Receive News & Ratings for Forrester Research Daily - Enter your email address below to receive a concise daily summary of the latest news and analysts' ratings for Forrester Research and related companies with MarketBeat.com's FREE daily email newsletter.