Lantheus (NASDAQ:LNTH) issued an update on its FY 2019 earnings guidance on Tuesday morning. The company provided earnings per share (EPS) guidance of $1.14-1.17 for the period, compared to the Thomson Reuters consensus estimate of $0.96. The company issued revenue guidance of $357.967-363.118 million, compared to the consensus revenue estimate of $361.49 million.Lantheus also updated its Q1 2019 guidance to $0.23-0.25 EPS.
A number of analysts have issued reports on LNTH shares. BidaskClub downgraded Lantheus from a buy rating to a hold rating in a research note on Saturday, December 22nd. Zacks Investment Research raised Lantheus from a hold rating to a buy rating and set a $19.00 price objective on the stock in a report on Tuesday, February 5th. Finally, ValuEngine lowered Lantheus from a buy rating to a hold rating in a report on Wednesday, January 2nd. Three analysts have rated the stock with a hold rating and two have given a buy rating to the company. Lantheus currently has an average rating of Hold and a consensus price target of $20.33.
Shares of LNTH stock traded up $0.62 during mid-day trading on Tuesday, reaching $19.16. The stock had a trading volume of 326,216 shares, compared to its average volume of 160,033. The company has a debt-to-equity ratio of 4.76, a quick ratio of 2.87 and a current ratio of 3.50. The firm has a market capitalization of $713.14 million, a PE ratio of 19.16, a P/E/G ratio of 3.56 and a beta of 1.47. Lantheus has a 1-year low of $12.59 and a 1-year high of $21.45.
In other news, insider Cesare Orlandi sold 7,055 shares of the company's stock in a transaction dated Friday, November 30th. The stock was sold at an average price of $18.01, for a total value of $127,060.55. Following the sale, the insider now owns 86,064 shares in the company, valued at $1,550,012.64. The sale was disclosed in a document filed with the Securities & Exchange Commission, which can be accessed through
this link
. Also, CEO Mary Anne Heino sold 9,564 shares of the company's stock in a transaction dated Wednesday, January 30th. The stock was sold at an average price of $16.47, for a total value of $157,519.08. Following the completion of the sale, the chief executive officer now owns 630,782 shares in the company, valued at approximately $10,388,979.54. The disclosure for this sale can be found
here
. Insiders sold 23,736 shares of company stock worth $408,523 in the last 90 days. Company insiders own 1.20% of the company's stock.
TRADEMARK VIOLATION WARNING: "Lantheus (LNTH) Releases FY 2019 Earnings Guidance" was originally published by Dakota Financial News and is the property of of Dakota Financial News. If you are viewing this news story on another domain, it was illegally copied and republished in violation of U.S. and international copyright & trademark laws. The legal version of this news story can be accessed at https://dakotafinancialnews.com/2019/02/20/lantheus-lnth-releases-fy-2019-earnings-guidance.html.
About Lantheus
Lantheus Holdings, Inc develops, manufactures, and commercializes diagnostic medical imaging agents and products that assist clinicians in the diagnosis and treatment of cardiovascular and other diseases worldwide. Its principal products include DEFINITY, an ultrasound contrast agent used in ultrasound exams of the heart; TechneLite, a technetium generator that provides the essential nuclear material used in nuclear medicine procedures; and Xenon, a radiopharmaceutical gas used to assess pulmonary function and imaging cerebral blood flow.
Featured Article: The mechanics of the bid-ask spread in trading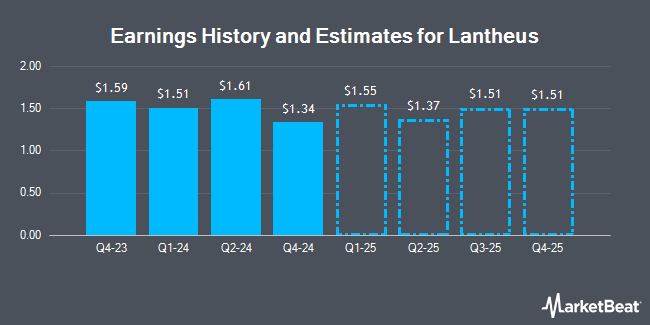 Receive News & Ratings for Lantheus Daily - Enter your email address below to receive a concise daily summary of the latest news and analysts' ratings for Lantheus and related companies with MarketBeat.com's FREE daily email newsletter.