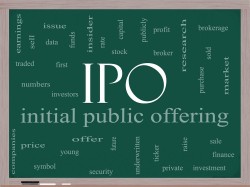 Genfit S.A. (GNFT) expects to raise $132 million in an IPO on Wednesday, March 27th, IPO Scoop reports. The company will issue 5,000,000 shares at $26.33 per share.
In the last year, Genfit S.A. generated $8.5 million in revenue and had a net loss of $89.9 million. Genfit S.A. has a market-cap of $952.7 million.
SVB Leerink and Barclays acted as the underwriters for the IPO and Bryan, Garnier, Natixis, Roth Capital Partners and H.C. Wainwright & Co. were co-managers.
Genfit S.A. provided the following description of their company for its IPO: "(Note: Public offering: "Our ordinary shares are listed on Euronext Paris under the symbol "GNFT." On March 13, 2019, the last reported sale price of our ordinary shares on Euronext Paris was €23.42 per ordinary share, equivalent to a price of $26.33 per ADS, assuming an exchange rate of €0.8894 per U.S. dollar, the exchange rate on March 8, 2019. ) We are a late-stage clinical biopharmaceutical company dedicated to the discovery and development of innovative drug candidates and diagnostic solutions targeting metabolic and liver-related diseases where there is considerable unmet medical need. We are a leader in the field of nuclear receptor-based drug discovery with a rich history and strong scientific heritage spanning almost two decades. We are evaluating our most advanced drug candidate, elafibranor, in a pivotal Phase 3 clinical trial as a potential treatment for nonalcoholic steatohepatitis, or NASH, and as a potential treatment for primary biliary cholangitis, or PBC. ".
Genfit S.A. was founded in 1999 and has 148 employees. The company is located at Parc Eurasanté, 885 avenue Eugène Avinée, 59120 Loos, France and can be reached via phone at +33 3 20 16 4000 or on the web at http://www.genfit.com.
Receive News & Ratings for Genfit S.A. Daily - Enter your email address below to receive a concise daily summary of the latest news and analysts' ratings for Genfit S.A. and related companies with MarketBeat.com's FREE daily email newsletter.