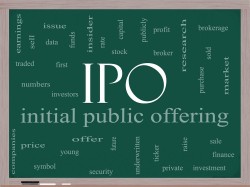 Tradeweb Markets (TW) plans to raise $682 million in an IPO on Thursday, April 4th, IPO Scoop reports. The company plans to issue 27,300,000 shares at a price of $24.00-$26.00 per share.
In the last twelve months, Tradeweb Markets generated $657.6 million in revenue and $159.5 million in net income. The company has a market-cap of $2.4 billion.
J.P. Morgan, Citigroup, Goldman Sachs and Morgan Stanley​ served as the underwriters for the IPO and BofA Merrill Lynch, Barclays, Credit Suisse, Deutsche Bank Securities, UBS Investment Bank, Wells Fargo Securities, Jefferies and Sandler O'Neill + Partners were co-managers.
Tradeweb Markets provided the following description of their company for its IPO: " We are a leader in building and operating electronic marketplaces for our global network of clients across the financial ecosystem. Our network is comprised of clients across the institutional, wholesale and retail client sectors, including many of the largest global asset managers, hedge funds, insurance companies, central banks, banks and dealers, proprietary trading firms and retail brokerage and financial advisory firms, as well as regional dealers. Our marketplaces facilitate trading across a range of asset classes, including rates, credit, money markets and equities. We are a global company serving clients in 62 countries with offices in North America, Europe and Asia. ".
Tradeweb Markets was founded in 1998 and has 919 employees. The company is located at 1177 Avenue of the Americas, New York, New York 10036. US and can be reached via phone at (646) 430-6000 or on the web at http://www.tradeweb.com.
Receive News & Ratings for Tradeweb Markets Daily - Enter your email address below to receive a concise daily summary of the latest news and analysts' ratings for Tradeweb Markets and related companies with MarketBeat.com's FREE daily email newsletter.