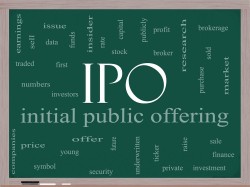 NGM Biopharmaceuticals (NGM) expects to raise $100 million in an IPO on Thursday, April 4th, IPO Scoop reports. The company will issue 6,700,000 shares at $14.00-$16.00 per share.
In the last twelve months, NGM Biopharmaceuticals generated $108.7 million in revenue and had a net loss of $490,000. The company has a market-cap of $974.9 million.
Goldman Sachs, Citigroup and Cowen acted as the underwriters for the IPO.
NGM Biopharmaceuticals provided the following description of their company for its IPO: " We are a clinical-stage biopharmaceutical company developing novel therapeutics based on our scientific understanding of key biological pathways underlying cardio-metabolic, liver, oncologic and ophthalmic diseases. These diseases are among the largest unmet medical needs globally and represent leading causes of morbidity and mortality and a significant burden for healthcare systems. Since the commencement of our operations in 2008, we have generated a robust portfolio of seven product candidates, five of which are in clinical testing. Our most advanced product candidate, NGM282, is wholly-owned and will enter Phase 2b development for the treatment of non-alcoholic steatohepatitis, or NASH, in the first quarter of 2019. In an ongoing Phase 2 clinical trial, NGM282 demonstrated the ability to rapidly improve NASH and reverse liver fibrosis at 12 weeks. ".
NGM Biopharmaceuticals was founded in 2007 and has 164 employees. The company is located at 333 Oyster Point Boulevard, South San Francisco, CA 94080, US and can be reached via phone at (650) 243-5555 or on the web at http://www.ngmbio.com.
Receive News & Ratings for NGM Biopharmaceuticals Daily - Enter your email address below to receive a concise daily summary of the latest news and analysts' ratings for NGM Biopharmaceuticals and related companies with MarketBeat.com's FREE daily email newsletter.