Microvision (NASDAQ:MVIS) is scheduled to release its earnings data before the market opens on Wednesday, April 17th. Analysts expect Microvision to post earnings of ($0.09) per share for the quarter.
Microvision (NASDAQ:MVIS) last posted its quarterly earnings results on Tuesday, March 5th. The electronics maker reported ($0.13) earnings per share for the quarter, missing the Zacks' consensus estimate of ($0.10) by ($0.03). The company had revenue of $1.83 million during the quarter, compared to the consensus estimate of $2.85 million. Microvision had a negative net margin of 154.77% and a negative return on equity of 351.08%.
MVIS stock opened at $1.03 on Tuesday. The company has a quick ratio of 0.91, a current ratio of 0.97 and a debt-to-equity ratio of 0.01. The company has a market capitalization of $105.17 million, a price-to-earnings ratio of -3.32 and a beta of 0.55. Microvision has a twelve month low of $0.51 and a twelve month high of $1.80.
An institutional investor recently raised its position in Microvision stock. Geode Capital Management LLC raised its stake in Microvision, Inc. (NASDAQ:MVIS) by 5.6% in the fourth quarter, according to the company in its most recent disclosure with the Securities & Exchange Commission. The institutional investor owned 739,235 shares of the electronics maker's stock after purchasing an additional 39,003 shares during the quarter. Geode Capital Management LLC owned approximately 0.74% of Microvision worth $446,000 at the end of the most recent reporting period. 24.29% of the stock is owned by hedge funds and other institutional investors.
A number of research firms have weighed in on MVIS. HC Wainwright set a $4.00 price target on Microvision and gave the company a "buy" rating in a research note on Monday, December 31st. Craig Hallum began coverage on Microvision in a research note on Wednesday, December 19th. They issued a "buy" rating for the company. ValuEngine downgraded Microvision from a "hold" rating to a "sell" rating in a research note on Monday, December 17th. Finally, Zacks Investment Research upgraded Microvision from a "hold" rating to a "strong-buy" rating and set a $1.00 price target for the company in a research note on Friday, January 18th.
WARNING: "Microvision (MVIS) Scheduled to Post Quarterly Earnings on Wednesday" was originally reported by Dakota Financial News and is the sole property of of Dakota Financial News. If you are reading this article on another website, it was illegally stolen and reposted in violation of United States & international copyright & trademark law. The correct version of this article can be read at https://dakotafinancialnews.com/2019/04/16/microvision-mvis-scheduled-to-post-quarterly-earnings-on-wednesday.html.
About Microvision
MicroVision, Inc develops PicoP scanning technology to create high-resolution miniature projection, and three-dimensional sensing and image capture solutions in the United States and Asia. Its PicoP scanning technology includes micro-electrical mechanical systems, laser diodes, opto-mechanics, and electronics.
Featured Article: What is a blue-chip stock?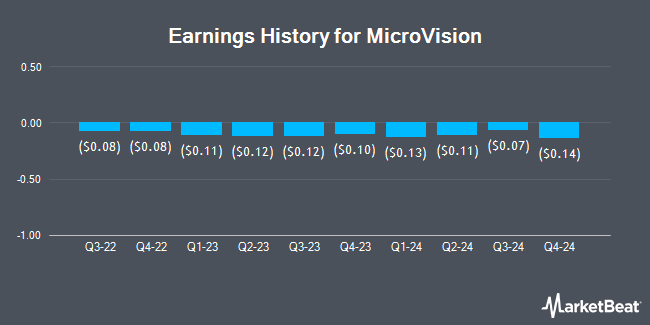 Receive News & Ratings for Microvision Daily - Enter your email address below to receive a concise daily summary of the latest news and analysts' ratings for Microvision and related companies with MarketBeat.com's FREE daily email newsletter.