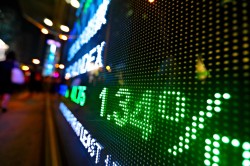 Citizens (NASDAQ:CIZN) posted its quarterly earnings results on Monday. The bank reported $0.25 earnings per share for the quarter, Bloomberg Earnings reports. The company had revenue of $8.26 million for the quarter. Citizens had a return on equity of 8.15% and a net margin of 16.70%.
Citizens stock remained flat at $$22.50 during trading on Tuesday. The company had a trading volume of 14 shares, compared to its average volume of 1,313. Citizens has a one year low of $19.08 and a one year high of $24.00. The company has a market cap of $110.35 million, a PE ratio of 16.42 and a beta of -0.22.
The company also recently declared a quarterly dividend, which was paid on Friday, March 29th. Stockholders of record on Friday, March 15th were issued a dividend of $0.24 per share. The ex-dividend date of this dividend was Thursday, March 14th. This represents a $0.96 annualized dividend and a dividend yield of 4.27%.
Separately, TheStreet upgraded Citizens from a "c+" rating to a "b-" rating in a research note on Wednesday, April 3rd.
COPYRIGHT VIOLATION NOTICE: "Citizens (CIZN) Posts Quarterly Earnings Results" was posted by Dakota Financial News and is owned by of Dakota Financial News. If you are reading this article on another website, it was illegally copied and republished in violation of international trademark and copyright laws. The original version of this article can be read at https://dakotafinancialnews.com/2019/04/23/citizens-cizn-posts-quarterly-earnings-results.html.
About Citizens
Citizens Holding Company operates as the bank holding company for The Citizens Bank of Philadelphia that provides a range of commercial and personal banking products and services. The company offers demand deposits, as well as savings and time deposit accounts. It also provides secured and unsecured loans; mortgage loans; installment loans; credit card loans; real estate loans, including single and multi-family housing, farm, residential and commercial construction, and commercial real estate loans; commercial, industrial, and agricultural production loans; and consumer loans, as well as issues letters of credit.
Read More: How to Track your Portfolio in Google Finance
Receive News & Ratings for Citizens Daily - Enter your email address below to receive a concise daily summary of the latest news and analysts' ratings for Citizens and related companies with MarketBeat.com's FREE daily email newsletter.