Third Point Reinsurance (NYSE:TPRE) announced its quarterly earnings results on Thursday. The insurance provider reported $1.43 earnings per share (EPS) for the quarter, missing analysts' consensus estimates of $1.44 by ($0.01), Fidelity Earnings reports. Third Point Reinsurance had a negative return on equity of 21.46% and a net margin of 3.89%. The firm had revenue of $308.00 million during the quarter.
TPRE traded down $0.64 on Friday, reaching $10.97. The company had a trading volume of 571,913 shares, compared to its average volume of 631,371. The company has a market capitalization of $1.09 billion, a P/E ratio of -3.35, a P/E/G ratio of 0.28 and a beta of 1.06. The company has a debt-to-equity ratio of 0.09, a current ratio of 0.82 and a quick ratio of 0.82. Third Point Reinsurance has a 52-week low of $8.85 and a 52-week high of $14.40.
A number of brokerages have recently issued reports on TPRE. TheStreet downgraded shares of Third Point Reinsurance from a "c" rating to a "d+" rating in a report on Thursday, February 28th. ValuEngine downgraded shares of Third Point Reinsurance from a "buy" rating to a "hold" rating in a research note on Friday. Finally, Zacks Investment Research raised shares of Third Point Reinsurance from a "strong sell" rating to a "buy" rating and set a $13.00 target price on the stock in a research note on Wednesday, March 6th.
TRADEMARK VIOLATION WARNING: This piece of content was first published by Dakota Financial News and is owned by of Dakota Financial News. If you are viewing this piece of content on another site, it was stolen and reposted in violation of US and international copyright law. The original version of this piece of content can be viewed at https://dakotafinancialnews.com/2019/05/11/third-point-reinsurance-tpre-releases-earnings-results-misses-expectations-by-0-01-eps.html.
About Third Point Reinsurance
Third Point Reinsurance Ltd., through its subsidiaries, provides specialty property and casualty reinsurance products to insurance and reinsurance companies worldwide. It underwrites homeowners' and commercial, workers' compensation, personal automobile, mortgage, and multi-line reinsurance products; professional, transactional, and general liability reinsurance products; and marine, travel, and extended warranty reinsurance products.
Recommended Story: What is the Consumer Price Index (CPI)?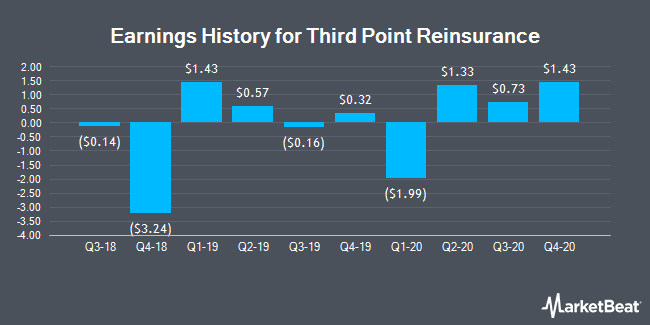 Receive News & Ratings for Third Point Reinsurance Daily - Enter your email address below to receive a concise daily summary of the latest news and analysts' ratings for Third Point Reinsurance and related companies with MarketBeat.com's FREE daily email newsletter.