OpGen (NASDAQ:OPGN) is scheduled to post its quarterly earnings results after the market closes on Tuesday, May 14th. Analysts expect OpGen to post earnings of ($0.33) per share for the quarter.
OpGen (NASDAQ:OPGN) last posted its quarterly earnings data on Tuesday, February 26th. The medical research company reported ($0.47) EPS for the quarter, missing the Thomson Reuters' consensus estimate of ($0.42) by ($0.05). OpGen had a negative net margin of 453.73% and a negative return on equity of 232.38%. The business had revenue of $0.76 million during the quarter, compared to analysts' expectations of $0.75 million. On average, analysts expect OpGen to post $-1 EPS for the current fiscal year and $-1 EPS for the next fiscal year.
NASDAQ OPGN opened at $0.50 on Friday. The company has a quick ratio of 1.20, a current ratio of 1.32 and a debt-to-equity ratio of 0.33. OpGen has a one year low of $0.36 and a one year high of $2.90. The company has a market capitalization of $4.41 million, a PE ratio of -0.23 and a beta of 0.98.
In other OpGen news, CEO Evan/ Fa Jones acquired 417,000 shares of the stock in a transaction dated Thursday, March 28th. The stock was acquired at an average price of $0.60 per share, with a total value of $250,200.00. The purchase was disclosed in a document filed with the Securities & Exchange Commission, which is accessible through
the SEC website
. Company insiders own 7.10% of the company's stock.
Several research analysts have recently commented on the stock. Zacks Investment Research lowered shares of OpGen from a "buy" rating to a "hold" rating in a research note on Thursday, April 25th. Alliance Global Partners assumed coverage on shares of OpGen in a research note on Friday, March 1st. They issued a "buy" rating and a $2.30 price objective for the company.
ILLEGAL ACTIVITY WARNING: "OpGen (OPGN) Set to Announce Earnings on Tuesday" was first posted by Dakota Financial News and is the sole property of of Dakota Financial News. If you are viewing this piece of content on another website, it was illegally copied and reposted in violation of U.S. and international trademark and copyright law. The original version of this piece of content can be viewed at https://dakotafinancialnews.com/2019/05/12/opgen-opgn-set-to-announce-earnings-on-tuesday.html.
About OpGen
OpGen, Inc, a precision medicine company, engages in developing molecular information products and services to combat infectious diseases in the United States and internationally. The company utilizes molecular diagnostics and informatics to help combat infectious diseases. It also helps clinicians with information about life threatening infections, enhance patient outcomes, and decrease the spread of infections caused by multidrug-resistant microorganisms.
Read More: What is the QQQ ETF?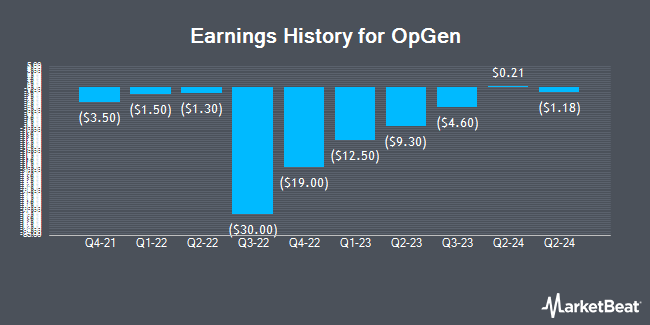 Receive News & Ratings for OpGen Daily - Enter your email address below to receive a concise daily summary of the latest news and analysts' ratings for OpGen and related companies with MarketBeat.com's FREE daily email newsletter.