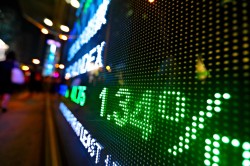 Hydrogenics (TSE:HYG) (NASDAQ:HYGS) will be posting its quarterly earnings results before the market opens on Tuesday, May 14th. Analysts expect Hydrogenics to post earnings of C($0.19) per share for the quarter.
Hydrogenics (TSE:HYG) (NASDAQ:HYGS) last issued its earnings results on Friday, March 15th. The company reported C($0.26) earnings per share for the quarter, hitting the Zacks' consensus estimate of C($0.26). The business had revenue of C$13.85 million during the quarter, compared to analysts' expectations of C$13.18 million.
Shares of TSE:HYG opened at C$10.79 on Monday. Hydrogenics has a fifty-two week low of C$5.20 and a fifty-two week high of C$12.05. The company has a quick ratio of 0.61, a current ratio of 1.26 and a debt-to-equity ratio of 73.73. The stock has a market capitalization of $204.87 million and a price-to-earnings ratio of -12.49.
Separately, Roth Capital lowered Hydrogenics from a "buy" rating to a "neutral" rating in a research report on Monday, March 18th.
ILLEGAL ACTIVITY WARNING: This report was originally reported by Dakota Financial News and is the property of of Dakota Financial News. If you are viewing this report on another site, it was copied illegally and republished in violation of US and international trademark & copyright laws. The correct version of this report can be viewed at https://dakotafinancialnews.com/2019/05/13/hydrogenics-hyg-scheduled-to-post-earnings-on-tuesday.html.
About Hydrogenics
Hydrogenics Corporation, together with its subsidiaries, designs, develops, and manufactures hydrogen generation products based on water electrolysis technology; and fuel cell products based on proton exchange membrane technology. It operates in two segments, OnSite Generation and Power Systems. The OnSite Generation segment develops products for industrial gas, hydrogen fueling, and renewable energy storage markets.
Featured Article: Rule of 72
Receive News & Ratings for Hydrogenics Daily - Enter your email address below to receive a concise daily summary of the latest news and analysts' ratings for Hydrogenics and related companies with MarketBeat.com's FREE daily email newsletter.