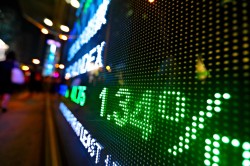 Biostage (OTCMKTS:BSTG) announced its quarterly earnings data on Tuesday. The company reported ($0.32) earnings per share for the quarter, MarketWatch Earnings reports.
Shares of OTCMKTS BSTG traded up $0.10 during mid-day trading on Wednesday, hitting $2.50. 1,031 shares of the company traded hands, compared to its average volume of 6,619. Biostage has a 1 year low of $0.75 and a 1 year high of $5.85.
TRADEMARK VIOLATION NOTICE: This story was first reported by Dakota Financial News and is the property of of Dakota Financial News. If you are accessing this story on another publication, it was illegally copied and reposted in violation of U.S. & international trademark and copyright laws. The original version of this story can be viewed at https://dakotafinancialnews.com/2019/05/15/biostage-bstg-releases-quarterly-earnings-results.html.
Biostage Company Profile
Biostage, Inc, a biotechnology company, engages in developing bioengineered organ implants based on its Cellframe technology. The company's Cellframe technology combines a proprietary biocompatible scaffold with a patient's own stem cells to create Cellspan organ implants. It is developing bioengineered organ implants, which addresses the damage of the esophagus, bronchus, and trachea due to cancer, infection, trauma, or congenital abnormalities.
Recommended Story: Growth and Income Funds
Receive News & Ratings for Biostage Daily - Enter your email address below to receive a concise daily summary of the latest news and analysts' ratings for Biostage and related companies with MarketBeat.com's FREE daily email newsletter.