Global Eagle Entertainment (NASDAQ:ENT) posted its earnings results on Tuesday. The company reported ($0.41) EPS for the quarter, missing the Thomson Reuters' consensus estimate of ($0.40) by ($0.01), Fidelity Earnings reports. The business had revenue of $166.62 million for the quarter, compared to analysts' expectations of $156.24 million.
Shares of NASDAQ:ENT opened at $0.79 on Wednesday. Global Eagle Entertainment has a 52-week low of $0.50 and a 52-week high of $3.16. The stock has a market capitalization of $83.06 million, a PE ratio of -0.30 and a beta of 1.35.
ENT has been the topic of several research analyst reports. Zacks Investment Research downgraded Global Eagle Entertainment from a "hold" rating to a "strong sell" rating in a research report on Tuesday, March 19th. Northland Securities set a $5.00 price target on Global Eagle Entertainment and gave the company a "buy" rating in a research report on Tuesday, March 26th. Finally, William Blair downgraded Global Eagle Entertainment from a "market perform" rating to an "underperform" rating and set a $1.16 price target on the stock. in a research report on Tuesday, March 19th. Two research analysts have rated the stock with a sell rating, three have given a hold rating and one has assigned a buy rating to the stock. Global Eagle Entertainment has an average rating of "Hold" and a consensus price target of $3.05.
WARNING: This news story was first posted by Dakota Financial News and is owned by of Dakota Financial News. If you are accessing this news story on another publication, it was illegally copied and reposted in violation of US and international trademark & copyright legislation. The correct version of this news story can be accessed at https://dakotafinancialnews.com/2019/05/15/global-eagle-entertainment-ent-announces-quarterly-earnings-results.html.
About Global Eagle Entertainment
Global Eagle Entertainment Inc provides content, connectivity, and digital media solutions for travel industry worldwide. The company operates through two segments, Media & Content and Connectivity. The Media & Content buys, produces, manages, distributes, and provides post-production services and wholly-owned and licensed media content, video and music programming, advertising, applications, and video games for and to the airline, maritime, and other away from home non-theatrical markets.
Recommended Story: Why is the Consumer Price Index (CPI) important?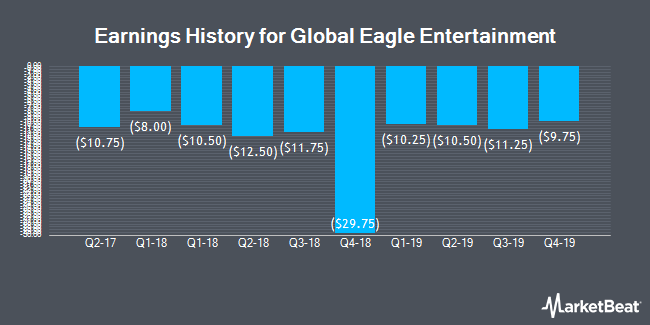 Receive News & Ratings for Global Eagle Entertainment Daily - Enter your email address below to receive a concise daily summary of the latest news and analysts' ratings for Global Eagle Entertainment and related companies with MarketBeat.com's FREE daily email newsletter.