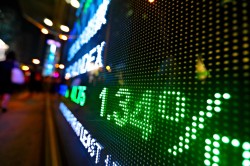 Summit Wireless Technologies (NASDAQ:WISA) issued its quarterly earnings data on Tuesday. The company reported ($0.17) earnings per share (EPS) for the quarter, missing the Thomson Reuters' consensus estimate of ($0.16) by ($0.01), Fidelity Earnings reports. The firm had revenue of $0.47 million during the quarter.
Shares of NASDAQ:WISA traded up $0.05 on Thursday, hitting $1.90. The company had a trading volume of 41,610 shares, compared to its average volume of 30,870. Summit Wireless Technologies has a 52-week low of $1.50 and a 52-week high of $5.61.
ILLEGAL ACTIVITY WARNING: This story was originally published by Dakota Financial News and is owned by of Dakota Financial News. If you are viewing this story on another domain, it was illegally copied and republished in violation of US and international copyright and trademark law. The legal version of this story can be accessed at https://dakotafinancialnews.com/2019/05/16/summit-wireless-technologies-wisa-posts-quarterly-earnings-results-misses-expectations-by-0-01-eps.html.
Summit Wireless Technologies Company Profile
Summit Wireless Technologies, Inc develops wireless audio integrated circuits for home entertainment and professional audio markets in the United States, Europe, and the Asia Pacific. The company offers TX modules for TVs, AV receivers, media hubs, and small dongles that connect through USB or HDMI ports; and speaker systems.
Further Reading: Debt-To-Equity Ratio
Receive News & Ratings for Summit Wireless Technologies Daily - Enter your email address below to receive a concise daily summary of the latest news and analysts' ratings for Summit Wireless Technologies and related companies with MarketBeat.com's FREE daily email newsletter.