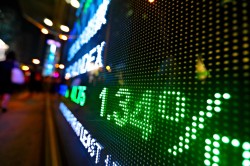 Evans & Sutherland Computer Corp (OTCMKTS:ESCC) Director Pierce Tim acquired 49,600 shares of the company's stock in a transaction on Thursday, May 16th. The stock was purchased at an average cost of $0.60 per share, for a total transaction of $29,760.00. The transaction was disclosed in a filing with the Securities & Exchange Commission, which can be accessed through this link.
Shares of OTCMKTS ESCC traded up $0.04 during trading on Friday, hitting $0.64. 36,202 shares of the company were exchanged, compared to its average volume of 57,057. The firm has a market capitalization of $7.44 million, a P/E ratio of 2.09 and a beta of -0.76. Evans & Sutherland Computer Corp has a 1 year low of $0.54 and a 1 year high of $1.21. The company has a debt-to-equity ratio of 0.16, a quick ratio of 1.65 and a current ratio of 2.06.
COPYRIGHT VIOLATION WARNING: "Evans & Sutherland Computer Corp (ESCC) Director Purchases $29,760.00 in Stock" was published by Dakota Financial News and is the sole property of of Dakota Financial News. If you are viewing this story on another domain, it was copied illegally and republished in violation of United States and international copyright laws. The legal version of this story can be viewed at https://dakotafinancialnews.com/2019/05/17/evans-sutherland-computer-corp-escc-director-purchases-29760-00-in-stock.html.
Evans & Sutherland Computer Company Profile
Evans & Sutherland Computer Corporation produces and sells visual display systems used primarily in full-dome video projection applications, dome projection screens, and dome architectural treatments in the United States and internationally. The company's products include planetarium and dome theater systems consisting of proprietary hardware and software, and other visual display systems primarily used to project digital video on large curved surfaces.
Featured Article: Golden Cross
Receive News & Ratings for Evans & Sutherland Computer Daily - Enter your email address below to receive a concise daily summary of the latest news and analysts' ratings for Evans & Sutherland Computer and related companies with MarketBeat.com's FREE daily email newsletter.