Air Lease Corp (NYSE:AL) CEO John L. Plueger sold 50,671 shares of Air Lease stock in a transaction on Wednesday, May 15th. The shares were sold at an average price of $38.59, for a total transaction of $1,955,393.89. Following the completion of the transaction, the chief executive officer now owns 914,145 shares in the company, valued at $35,276,855.55. The transaction was disclosed in a legal filing with the Securities & Exchange Commission, which is accessible through the SEC website.
Shares of NYSE:AL traded down $0.54 during midday trading on Friday, hitting $37.62. The stock had a trading volume of 1,202,913 shares, compared to its average volume of 940,849. The company has a market cap of $4.17 billion, a price-to-earnings ratio of 8.18, a PEG ratio of 0.93 and a beta of 2.04. The company has a quick ratio of 0.81, a current ratio of 0.81 and a debt-to-equity ratio of 2.29. Air Lease Corp has a 1 year low of $28.13 and a 1 year high of $47.34.
Air Lease (NYSE:AL) last issued its earnings results on Thursday, May 9th. The transportation company reported $1.23 earnings per share for the quarter, beating the Thomson Reuters' consensus estimate of $1.22 by $0.01. The business had revenue of $466.00 million for the quarter, compared to the consensus estimate of $456.91 million. Air Lease had a net margin of 30.50% and a return on equity of 11.45%. The business's quarterly revenue was up 22.2% compared to the same quarter last year. During the same quarter in the previous year, the firm earned $1.38 earnings per share. On average, research analysts forecast that Air Lease Corp will post 5.54 EPS for the current year.
The company also recently announced a quarterly dividend, which will be paid on Thursday, July 11th. Stockholders of record on Wednesday, June 5th will be issued a $0.13 dividend. This represents a $0.52 annualized dividend and a dividend yield of 1.38%. The ex-dividend date is Tuesday, June 4th. Air Lease's payout ratio is 11.30%.
A number of research analysts have commented on AL shares. Zacks Investment Research lowered shares of Air Lease from a "buy" rating to a "hold" rating in a research note on Friday, March 1st. ValuEngine lowered shares of Air Lease from a "sell" rating to a "strong sell" rating in a research note on Wednesday, March 20th. TheStreet upgraded shares of Air Lease from a "c+" rating to a "b-" rating in a research note on Wednesday, January 30th. Finally, Goldman Sachs Group initiated coverage on shares of Air Lease in a report on Monday, April 8th. They issued a "buy" rating and a $52.00 target price on the stock. One equities research analyst has rated the stock with a sell rating, three have assigned a hold rating, six have assigned a buy rating and one has assigned a strong buy rating to the company. The stock currently has an average rating of "Buy" and an average target price of $55.56.
Large investors have recently modified their holdings of the company. Sageworth Trust Co purchased a new stake in shares of Air Lease in the first quarter valued at about $26,000. Permanens Capital L.P. purchased a new stake in shares of Air Lease in the first quarter valued at about $26,000. Penserra Capital Management LLC purchased a new stake in Air Lease during the fourth quarter worth about $27,000. First Mercantile Trust Co. boosted its holdings in Air Lease by 41.5% during the fourth quarter. First Mercantile Trust Co. now owns 920 shares of the transportation company's stock worth $28,000 after buying an additional 270 shares in the last quarter. Finally, SeaBridge Investment Advisors LLC purchased a new stake in Air Lease during the fourth quarter worth about $30,000. 83.93% of the stock is currently owned by institutional investors and hedge funds.
COPYRIGHT VIOLATION WARNING: This news story was first published by Dakota Financial News and is the property of of Dakota Financial News. If you are viewing this news story on another publication, it was illegally copied and reposted in violation of United States and international copyright and trademark law. The legal version of this news story can be viewed at https://dakotafinancialnews.com/2019/05/18/insider-selling-air-lease-corp-al-ceo-sells-50671-shares-of-stock.html.
About Air Lease
Air Lease Corporation, an aircraft leasing company, engages in the purchase and leasing of commercial jet transport aircraft to airlines worldwide. The company also sells aircraft from its operating lease portfolio to third parties, including other leasing companies, financial services companies, and airlines.
See Also: Why do companies pay special dividends?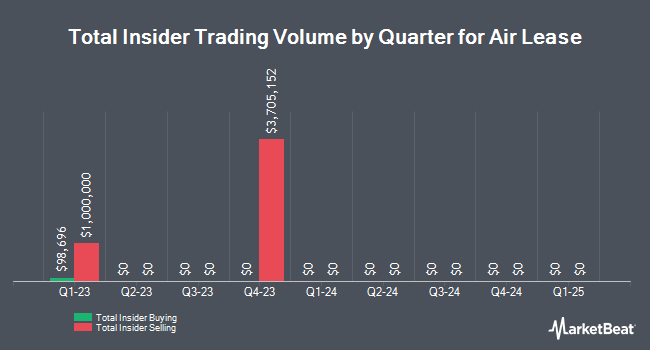 Receive News & Ratings for Air Lease Daily - Enter your email address below to receive a concise daily summary of the latest news and analysts' ratings for Air Lease and related companies with MarketBeat.com's FREE daily email newsletter.