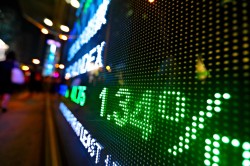 Citigroup upgraded shares of ILUKA RESOURCES/ADR (OTCMKTS:ILKAY) from a neutral rating to a buy rating in a report issued on Friday, The Fly reports.
Separately, Goldman Sachs Group began coverage on shares of ILUKA RESOURCES/ADR in a report on Friday, March 8th. They issued a neutral rating for the company.
Shares of ILKAY stock opened at $29.57 on Friday. ILUKA RESOURCES/ADR has a 12-month low of $27.17 and a 12-month high of $45.52.
ILUKA RESOURCES/ADR Company Profile
Iluka Resources Limited engages in the exploration, project development, mining, processing, marketing, and rehabilitation of mineral sands. The company operates through Australia, Sierra Rutile, United States, and Mining Area C segments. It produces zircon; titanium dioxide products of rutile and synthetic rutile; and ilmenite, as well as activated carbon and iron concentrate products.
Further Reading: What is the NASDAQ Stock Market?

Receive News & Ratings for ILUKA RESOURCES/ADR Daily - Enter your email address below to receive a concise daily summary of the latest news and analysts' ratings for ILUKA RESOURCES/ADR and related companies with MarketBeat.com's FREE daily email newsletter.