Secureworks (NASDAQ:SCWX) released its earnings results on Wednesday. The technology company reported ($0.02) earnings per share for the quarter, beating the Thomson Reuters' consensus estimate of ($0.10) by $0.08, Briefing.com reports. Secureworks had a negative return on equity of 1.50% and a negative net margin of 6.39%. The company had revenue of $132.80 million for the quarter, compared to analysts' expectations of $132.10 million. During the same quarter in the previous year, the business posted ($0.06) EPS. The business's revenue for the quarter was up 5.2% on a year-over-year basis.
Shares of NASDAQ SCWX opened at $13.60 on Friday. The company has a market capitalization of $1.08 billion, a P/E ratio of -85.00 and a beta of 1.40. Secureworks has a 52 week low of $10.58 and a 52 week high of $24.91.
Several equities analysts have weighed in on the company. Zacks Investment Research cut Secureworks from a "buy" rating to a "hold" rating in a research note on Saturday, March 2nd. BidaskClub raised Secureworks from a "buy" rating to a "strong-buy" rating in a research note on Friday, March 1st. Finally, TheStreet raised Secureworks from a "d+" rating to a "c-" rating in a research note on Monday, April 22nd. Four investment analysts have rated the stock with a sell rating and seven have assigned a hold rating to the stock. The stock currently has a consensus rating of "Hold" and an average target price of $15.22.
A hedge fund recently raised its stake in Secureworks stock. Geode Capital Management LLC lifted its position in Secureworks Corp (NASDAQ:SCWX) by 13.0% in the 4th quarter, according to the company in its most recent 13F filing with the SEC. The institutional investor owned 116,506 shares of the technology company's stock after buying an additional 13,434 shares during the quarter. Geode Capital Management LLC owned about 0.14% of Secureworks worth $1,966,000 as of its most recent filing with the SEC. Hedge funds and other institutional investors own 10.82% of the company's stock.
WARNING: This article was first posted by Dakota Financial News and is owned by of Dakota Financial News. If you are reading this article on another publication, it was stolen and reposted in violation of US & international copyright and trademark laws. The original version of this article can be accessed at https://dakotafinancialnews.com/2019/06/07/secureworks-scwx-announces-quarterly-earnings-results.html.
About Secureworks
SecureWorks Corp., a cybersecurity company, provides an integrated suite of intelligence-driven information security solutions focused on protecting organizations worldwide. The company's solutions include managed security, threat intelligence, security and risk consulting, and incident response.
Featured Article: What is the yield curve?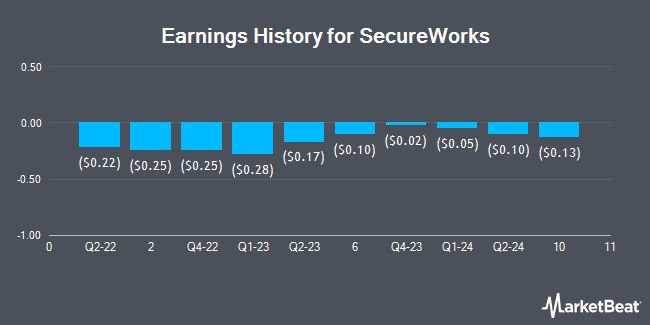 Receive News & Ratings for Secureworks Daily - Enter your email address below to receive a concise daily summary of the latest news and analysts' ratings for Secureworks and related companies with MarketBeat.com's FREE daily email newsletter.