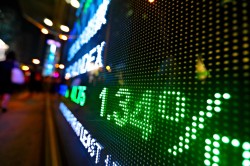 Document Security Systems, Inc. (NYSEAMERICAN:DSS) Director Heng Fai Ambrose Chan bought 2,000,000 shares of the company's stock in a transaction on Monday, June 10th. The shares were bought at an average cost of $0.50 per share, for a total transaction of $1,000,000.00. Following the transaction, the director now owns 2,002,912 shares in the company, valued at approximately $1,001,456. The acquisition was disclosed in a document filed with the Securities & Exchange Commission, which is available at this link.
NYSEAMERICAN:DSS opened at $0.48 on Wednesday. Document Security Systems, Inc. has a twelve month low of $0.46 and a twelve month high of $1.99.
Document Security Systems (NYSEAMERICAN:DSS) last released its earnings results on Tuesday, May 14th. The business services provider reported ($0.03) earnings per share for the quarter, missing the consensus estimate of ($0.01) by ($0.02). The business had revenue of $4.81 million for the quarter.
A hedge fund recently raised its stake in Document Security Systems stock. Renaissance Technologies LLC raised its holdings in shares of Document Security Systems, Inc. (NYSEAMERICAN:DSS) by 4.9% in the 1st quarter, according to the company in its most recent 13F filing with the Securities and Exchange Commission. The firm owned 235,430 shares of the business services provider's stock after acquiring an additional 10,900 shares during the period. Renaissance Technologies LLC owned approximately 1.31% of Document Security Systems worth $306,000 at the end of the most recent quarter.
WARNING: This article was reported by Dakota Financial News and is owned by of Dakota Financial News. If you are accessing this article on another domain, it was illegally stolen and republished in violation of United States and international trademark and copyright laws. The original version of this article can be accessed at https://dakotafinancialnews.com/2019/06/12/heng-fai-ambrose-chan-buys-2000000-shares-of-document-security-systems-inc-nyseamericandss-stock.html.
About Document Security Systems
Document Security Systems, Inc focuses on developing and selling anti-counterfeiting, product authentication, and brand protection technology solutions. It operates through five segments: DSS Packaging and Printing Group, DSS Plastics Group, DSS Digital Group, DSS and DSS Technology Management, and DSS International.
See Also: What is a Buy-Side Analyst?
Receive News & Ratings for Document Security Systems Daily - Enter your email address below to receive a concise daily summary of the latest news and analysts' ratings for Document Security Systems and related companies with MarketBeat.com's FREE daily email newsletter.