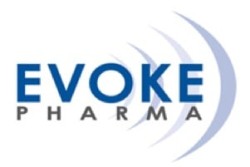 Evoke Pharma Inc (NASDAQ:EVOK) saw a significant drop in short interest in May. As of May 31st, there was short interest totalling 897,500 shares, a drop of 23.1% from the April 30th total of 1,166,700 shares. Currently, 6.3% of the company's stock are sold short. Based on an average daily volume of 843,800 shares, the days-to-cover ratio is presently 1.1 days.
NASDAQ EVOK traded down $0.01 during trading on Wednesday, hitting $0.60. The company's stock had a trading volume of 230,195 shares, compared to its average volume of 569,079. The company has a market cap of $14.04 million, a PE ratio of -1.31 and a beta of 1.73. Evoke Pharma has a fifty-two week low of $0.53 and a fifty-two week high of $3.40.
Evoke Pharma (NASDAQ:EVOK) last issued its quarterly earnings results on Wednesday, May 8th. The specialty pharmaceutical company reported ($0.11) earnings per share for the quarter, missing the consensus estimate of ($0.07) by ($0.04). On average, analysts expect that Evoke Pharma will post -0.41 EPS for the current year.
A number of equities research analysts recently weighed in on EVOK shares.
Zacks Investment Research
downgraded Evoke Pharma from a "hold" rating to a "sell" rating in a research report on Tuesday, May 7th. B. Riley set a $5.00 price target on Evoke Pharma and gave the stock a "buy" rating in a report on Monday, March 4th. Finally, HC Wainwright reissued a "hold" rating on shares of Evoke Pharma in a report on Tuesday, May 28th.
A number of hedge funds and other institutional investors have recently modified their holdings of EVOK. Marshall Wace LLP acquired a new stake in shares of Evoke Pharma during the first quarter worth about $139,000. BlackRock Inc. lifted its holdings in shares of Evoke Pharma by 5.5% during the fourth quarter. BlackRock Inc. now owns 83,583 shares of the specialty pharmaceutical company's stock worth $207,000 after purchasing an additional 4,392 shares during the period. Finally, Virtu Financial LLC acquired a new stake in shares of Evoke Pharma during the first quarter worth about $118,000. 7.40% of the stock is owned by institutional investors and hedge funds.
WARNING: "Evoke Pharma Inc (NASDAQ:EVOK) Short Interest Update" was first posted by Dakota Financial News and is the property of of Dakota Financial News. If you are accessing this news story on another site, it was stolen and republished in violation of United States and international copyright and trademark legislation. The legal version of this news story can be read at https://dakotafinancialnews.com/2019/06/20/evoke-pharma-inc-nasdaqevok-short-interest-update.html.
Evoke Pharma Company Profile
Evoke Pharma, Inc, a specialty pharmaceutical company, primarily focuses on the development of drugs for the treatment of gastroenterological disorders and diseases. It is developing Gimoti, a metoclopramide nasal spray, which is completed Phase III clinical trials for the relief of symptoms associated with acute and recurrent diabetic gastroparesis in women.
Featured Article: How to start trading in the forex market?
Receive News & Ratings for Evoke Pharma Daily - Enter your email address below to receive a concise daily summary of the latest news and analysts' ratings for Evoke Pharma and related companies with MarketBeat.com's FREE daily email newsletter.