Avenue Therapeutics Inc (NASDAQ:ATXI) CFO Joseph Walter Vazzano sold 4,688 shares of the stock in a transaction dated Friday, August 9th. The shares were sold at an average price of $5.59, for a total transaction of $26,205.92. Following the completion of the sale, the chief financial officer now owns 59,038 shares of the company's stock, valued at approximately $330,022.42. The transaction was disclosed in a filing with the SEC, which is available at this hyperlink.
Avenue Therapeutics stock traded up $0.04 during trading on Monday, hitting $5.88. The company had a trading volume of 7,644 shares, compared to its average volume of 16,560. Avenue Therapeutics Inc has a 1-year low of $2.08 and a 1-year high of $7.98. The company has a 50 day simple moving average of $6.07. The stock has a market cap of $96.71 million, a PE ratio of -2.80 and a beta of -0.41.
Avenue Therapeutics (NASDAQ:ATXI) last issued its quarterly earnings results on Monday, May 13th. The company reported ($0.82) EPS for the quarter, missing the Thomson Reuters' consensus estimate of ($0.43) by ($0.39). On average, equities analysts expect that Avenue Therapeutics Inc will post -1.82 EPS for the current year.
A number of analysts have commented on the stock. HC Wainwright reiterated a "buy" rating and issued a $11.00 price objective on shares of Avenue Therapeutics in a report on Tuesday, May 14th.
ValuEngine
upgraded shares of Avenue Therapeutics from a "hold" rating to a "buy" rating in a report on Thursday, April 25th.
A number of hedge funds have recently modified their holdings of the business. National Asset Management Inc. boosted its position in Avenue Therapeutics by 9.3% in the 2nd quarter. National Asset Management Inc. now owns 64,750 shares of the company's stock valued at $408,000 after buying an additional 5,500 shares during the period. Spark Investment Management LLC purchased a new position in Avenue Therapeutics in the 1st quarter valued at approximately $144,000. Finally, Northern Trust Corp purchased a new stake in shares of Avenue Therapeutics during the 4th quarter worth $79,000. 7.01% of the stock is owned by institutional investors.
Avenue Therapeutics Company Profile
Avenue Therapeutics, Inc, a specialty pharmaceutical company, acquires, licenses, develops, and commercializes products primarily for use in the acute/intensive care hospital setting. Its product candidate is intravenous Tramadol, which is in Phase III clinical trials to treat moderate to moderately severe post-operative pain.
Further Reading: How to invest in a bear market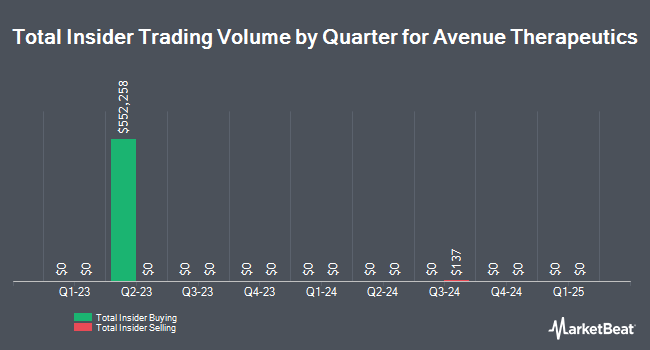 Receive News & Ratings for Avenue Therapeutics Daily - Enter your email address below to receive a concise daily summary of the latest news and analysts' ratings for Avenue Therapeutics and related companies with MarketBeat.com's FREE daily email newsletter.