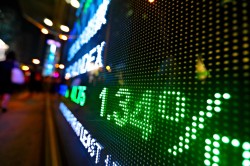 Exicure Inc (OTCMKTS:XCUR)'s share price was up 5% on Wednesday . The stock traded as high as $2.68 and last traded at $2.52, approximately 153,096 shares were traded during trading. An increase of 327% from the average daily volume of 35,821 shares. The stock had previously closed at $2.40.
The business has a 50 day moving average price of $2.53.
Exicure (OTCMKTS:XCUR) last issued its quarterly earnings data on Thursday, August 8th. The company reported ($0.12) earnings per share for the quarter, topping the Thomson Reuters' consensus estimate of ($0.13) by $0.01. The firm had revenue of $0.43 million for the quarter.
In related news, Director David R. Walt bought 1,000,000 shares of Exicure stock in a transaction dated Friday, August 2nd. The shares were bought at an average cost of $2.00 per share, for a total transaction of $2,000,000.00. The transaction was disclosed in a filing with the Securities & Exchange Commission, which is available at
this link
.
About Exicure (OTCMKTS:XCUR)
Recommended Story: How to trade on quiet period expirations
Receive News & Ratings for Exicure Daily - Enter your email address below to receive a concise daily summary of the latest news and analysts' ratings for Exicure and related companies with MarketBeat.com's FREE daily email newsletter.