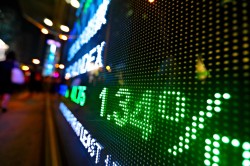 K2FLY Ltd (ASX:K2F)'s stock price was up 12.5% during mid-day trading on Thursday . The stock traded as high as A$0.18 ($0.13) and last traded at A$0.18 ($0.13), approximately 80,223 shares were traded during trading. The stock had previously closed at A$0.16 ($0.11).
The stock's fifty day moving average price is A$0.17. The company has a market capitalization of $13.56 million and a price-to-earnings ratio of -3.10.
About K2FLY (ASX:K2F)
K2fly Limited operates as an asset management technology company in Australia. It provides mobility solutions, such as DocMan, a task management app; HandoverNotes, an electronic information sharing app; PropertyInspector, an asset inspection app; and TagMan, an asset verification app, as well as ADAM, an asset data analysis management solution.
Read More: Why is momentum important to successful trading?
Receive News & Ratings for K2FLY Daily - Enter your email address below to receive a concise daily summary of the latest news and analysts' ratings for K2FLY and related companies with MarketBeat.com's FREE daily email newsletter.