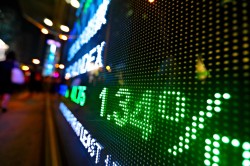 Mamamancini's Holdings Inc (OTCMKTS:MMMB) fell 5.3% during trading on Thursday . The stock traded as low as $0.43 and last traded at $0.45, 68,700 shares changed hands during trading. An increase of 778% from the average session volume of 7,827 shares. The stock had previously closed at $0.48.
Separately, Zacks Investment Research raised Mamamancini's from a "strong sell" rating to a "hold" rating in a research note on Thursday, July 4th.
The business's 50 day moving average is $0.51. The stock has a market capitalization of $14.11 million, a PE ratio of 22.50 and a beta of 0.31.
Mamamancini's (OTCMKTS:MMMB) last announced its quarterly earnings data on Friday, June 14th. The company reported $0.01 EPS for the quarter, meeting the Zacks' consensus estimate of $0.01. Mamamancini's had a negative return on equity of 46.74% and a net margin of 2.07%. The firm had revenue of $7.37 million during the quarter, compared to analysts' expectations of $7.23 million. As a group, sell-side analysts predict that Mamamancini's Holdings Inc will post 0.06 earnings per share for the current year.
Mamamancini's Company Profile (OTCMKTS:MMMB)
MamaMancini's Holdings, Inc manufactures and distributes prepared, frozen, and refrigerated food products primarily in the United States. The company offers beef, turkey, chicken, and pork meatballs with sauce; meatloaf and Italian entrees; and meats and sauces. It sells its products through a commission broker network to supermarkets and mass-market retailers, and food distributors.
Featured Story: What is the significance of the death cross?
Receive News & Ratings for Mamamancini's Daily - Enter your email address below to receive a concise daily summary of the latest news and analysts' ratings for Mamamancini's and related companies with MarketBeat.com's FREE daily email newsletter.