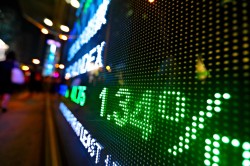 Globe Life Inc. (NYSE:GL) declared a quarterly dividend on Tuesday, September 3rd, Zacks reports. Stockholders of record on Friday, October 4th will be given a dividend of 0.172 per share on Friday, November 1st. This represents a $0.69 dividend on an annualized basis and a dividend yield of 0.76%. The ex-dividend date of this dividend is Thursday, October 3rd.
Shares of GL traded up $2.08 during midday trading on Thursday, reaching $90.84. 367,500 shares of the stock were exchanged, compared to its average volume of 478,790. Globe Life has a 52 week low of $69.68 and a 52 week high of $93.26. The company has a current ratio of 0.06, a quick ratio of 0.06 and a debt-to-equity ratio of 0.20. The company has a market capitalization of $9.62 billion, a price-to-earnings ratio of 14.82, a PEG ratio of 1.72 and a beta of 0.95.
Globe Life (NYSE:GL) last posted its quarterly earnings results on Wednesday, July 24th. The company reported $1.67 earnings per share (EPS) for the quarter, topping analysts' consensus estimates of $1.65 by $0.02. Globe Life had a return on equity of 12.34% and a net margin of 16.26%. The business had revenue of $1.13 billion for the quarter, compared to the consensus estimate of $1.12 billion. On average, equities research analysts predict that Globe Life will post 6.73 EPS for the current year.
In related news, Director Charles E. Adair sold 3,670 shares of the firm's stock in a transaction dated Tuesday, July 30th. The stock was sold at an average price of $91.65, for a total transaction of $336,355.50. Following the sale, the director now owns 7,699 shares of the company's stock, valued at $705,613.35. The sale was disclosed in a filing with the SEC, which is available through
the SEC website
. Also, EVP Vern D. Herbel sold 50,000 shares of the firm's stock in a transaction dated Friday, July 26th. The shares were sold at an average price of $92.25, for a total value of $4,612,500.00. Following the sale, the executive vice president now directly owns 50,000 shares in the company, valued at approximately $4,612,500. The disclosure for this sale can be found
here
. In the last ninety days, insiders have sold 100,820 shares of company stock worth $9,241,936. 3.64% of the stock is owned by corporate insiders.
Separately, Zacks Investment Research raised Globe Life from a "hold" rating to a "buy" rating and set a $99.00 price target on the stock in a research report on Tuesday.
About Globe Life
Globe Life Inc, through its subsidiaries, provides various life and supplemental health insurance products, and annuities to lower middle to middle income households in the United States. The company operates through four segments: Life Insurance, Supplemental Health Insurance, Annuities, and Investments.
Recommended Story: What is a capital gain?

Receive News & Ratings for Globe Life Daily - Enter your email address below to receive a concise daily summary of the latest news and analysts' ratings for Globe Life and related companies with MarketBeat.com's FREE daily email newsletter.