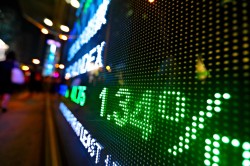 CTRY GARDEN HOL/ADR (OTCMKTS:CTRYY) declared a Semi-Annual dividend on Monday, August 26th, Zacks reports. Shareholders of record on Thursday, September 12th will be given a dividend of 0.756 per share on Monday, December 9th. The ex-dividend date of this dividend is Wednesday, September 11th.
Shares of CTRYY stock opened at $29.66 on Tuesday. The company has a 50 day moving average price of $32.79 and a 200-day moving average price of $35.25. CTRY GARDEN HOL/ADR has a 52 week low of $25.97 and a 52 week high of $41.90. The firm has a market capitalization of $25.79 billion, a PE ratio of 5.06 and a beta of 0.61. The company has a quick ratio of 1.14, a current ratio of 1.15 and a debt-to-equity ratio of 1.17.
About CTRY GARDEN HOL/ADR
Country Garden Holdings Company Limited, an investment holding company, operates as a real estate enterprise in the People's Republic of China and internationally. The company operates in five segments: Property Development; Construction; Property Investment; Property Management; and Hotel Operation.
Read More: Earnings Per Share
Receive News & Ratings for CTRY GARDEN HOL/ADR Daily - Enter your email address below to receive a concise daily summary of the latest news and analysts' ratings for CTRY GARDEN HOL/ADR and related companies with MarketBeat.com's FREE daily email newsletter.