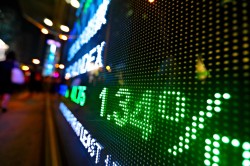 Opthea Ltd (ASX:OPT) was down 2.1% during trading on Wednesday . The stock traded as low as A$3.57 ($2.53) and last traded at A$3.65 ($2.59), approximately 89,224 shares were traded during mid-day trading. The stock had previously closed at A$3.73 ($2.65).
The company has a market cap of $911.73 million and a price-to-earnings ratio of -40.56. The company has a 50-day simple moving average of A$2.24.
About Opthea (ASX:OPT)
Opthea Limited develops and commercializes therapies primarily for eye disease in Australia. The company's development activities are based on the intellectual property portfolio covering Vascular Endothelial Growth Factors (VEGF) VEGF-C, VEGF-D, and VEGF Receptor-3 for the treatment of diseases associated with blood and lymphatic vessel growth, as well as vascular leakage.
Further Reading: Compound Annual Growth Rate (CAGR)
Receive News & Ratings for Opthea Daily - Enter your email address below to receive a concise daily summary of the latest news and analysts' ratings for Opthea and related companies with MarketBeat.com's FREE daily email newsletter.