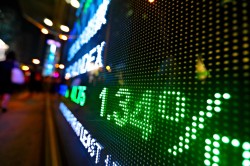 Osprey Medical Inc (ASX:OSP) shot up 11.1% during trading on Wednesday . The company traded as high as A$0.05 ($0.04) and last traded at A$0.05 ($0.04), 205,662 shares changed hands during trading. The stock had previously closed at A$0.05 ($0.03).
The firm has a market cap of $43.18 million and a price-to-earnings ratio of -1.11. The business's 50 day moving average price is A$0.06 and its 200 day moving average price is A$0.10. The company has a debt-to-equity ratio of 3.38, a quick ratio of 8.57 and a current ratio of 9.14.
Osprey Medical Company Profile (ASX:OSP)
Osprey Medical, Inc, a commercial stage company, focuses on protecting patients from the harmful effects of X-ray dye used during commonly performed angiographic imaging procedures in the United States and internationally. It offers AVERT, AVERT Plus, DyeVert Plus System, and DyeVert System, which reduces and monitors the contrast dye used in commonly performed heart, cardiovascular, and peripheral procedures.
Featured Article: What does an inverted yield curve signify?

Receive News & Ratings for Osprey Medical Daily - Enter your email address below to receive a concise daily summary of the latest news and analysts' ratings for Osprey Medical and related companies with MarketBeat.com's FREE daily email newsletter.