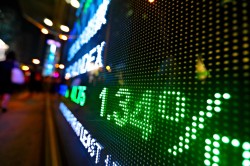 FormulaFolio Investments LLC increased its position in shares of ProShares Ultra MidCap400 (NYSEARCA:MVV) by 6.7% in the third quarter, according to the company in its most recent filing with the Securities and Exchange Commission. The firm owned 564,359 shares of the company's stock after purchasing an additional 35,222 shares during the period. ProShares Ultra MidCap400 makes up 0.9% of FormulaFolio Investments LLC's portfolio, making the stock its 25th largest holding. FormulaFolio Investments LLC owned about 16.72% of ProShares Ultra MidCap400 worth $22,546,000 at the end of the most recent quarter.
Separately, Harvest Investment Services LLC boosted its stake in shares of ProShares Ultra MidCap400 by 17.4% during the 2nd quarter. Harvest Investment Services LLC now owns 18,084 shares of the company's stock worth $743,000 after purchasing an additional 2,679 shares during the period.
Shares of MVV stock traded down $0.03 during trading hours on Thursday, reaching $40.32. 710 shares of the stock were exchanged, compared to its average volume of 94,211. ProShares Ultra MidCap400 has a 12-month low of $26.88 and a 12-month high of $42.71. The company's 50-day moving average price is $39.43 and its 200-day moving average price is $39.61.
The company also recently declared a — dividend, which was paid on Wednesday, October 2nd. Investors of record on Thursday, September 26th were paid a dividend of $0.0781 per share. The ex-dividend date of this dividend was Wednesday, September 25th. This represents a dividend yield of 0.6%.
ProShares Ultra MidCap400 Profile
ProShares Ultra MidCap400 (the Fund) seeks daily investment results that correspond to twice (200%) the daily performance of the S&P MidCap 400 Index (the Index). The Index is a measure of mid-size company United States stock market performance. It is a float-adjusted market capitalization weighted index of 400 United States operating companies and real estate investment trusts (REITs).
Featured Article: How to Trade Using Analysts Ratings
Receive News & Ratings for ProShares Ultra MidCap400 Daily - Enter your email address below to receive a concise daily summary of the latest news and analysts' ratings for ProShares Ultra MidCap400 and related companies with MarketBeat.com's FREE daily email newsletter.