ONE Gas Inc (NYSE:OGS) announced a quarterly dividend on Monday, October 28th, Zacks reports. Stockholders of record on Tuesday, November 12th will be given a dividend of 0.50 per share by the utilities provider on Monday, December 2nd. This represents a $2.00 dividend on an annualized basis and a dividend yield of 2.25%. The ex-dividend date is Friday, November 8th.
Shares of NYSE:OGS traded up $0.28 during trading on Wednesday, reaching $89.08. The stock had a trading volume of 9,454 shares, compared to its average volume of 167,751. ONE Gas has a one year low of $75.51 and a one year high of $96.66. The company has a market capitalization of $4.87 billion, a P/E ratio of 27.44, a PEG ratio of 4.30 and a beta of 0.26. The company has a current ratio of 0.57, a quick ratio of 0.40 and a debt-to-equity ratio of 0.61. The firm's 50-day simple moving average is $94.20 and its 200 day simple moving average is $90.89.
ONE Gas (NYSE:OGS) last released its quarterly earnings results on Monday, October 28th. The utilities provider reported $0.33 earnings per share for the quarter, missing analysts' consensus estimates of $0.34 by ($0.01). ONE Gas had a net margin of 10.83% and a return on equity of 8.63%. The firm had revenue of $248.56 million during the quarter, compared to the consensus estimate of $254.15 million. During the same quarter in the prior year, the business posted $0.31 earnings per share. Equities research analysts forecast that ONE Gas will post 3.5 earnings per share for the current fiscal year.
In related news, insider Jeffrey J. Husen sold 300 shares of ONE Gas stock in a transaction that occurred on Thursday, August 8th. The shares were sold at an average price of $89.64, for a total value of $26,892.00. Following the completion of the sale, the insider now directly owns 1,787 shares in the company, valued at approximately $160,186.68. The transaction was disclosed in a document filed with the Securities & Exchange Commission, which can be accessed through
the SEC website
. 1.76% of the stock is owned by company insiders.
A number of analysts have recently weighed in on OGS shares. Mizuho started coverage on shares of ONE Gas in a report on Wednesday, October 16th. They issued a "neutral" rating and a $96.00 price target on the stock. Morgan Stanley set a $82.00 target price on shares of ONE Gas and gave the stock a "sell" rating in a research note on Friday, August 16th. UBS Group upgraded shares of ONE Gas from a "sell" rating to a "neutral" rating and set a $90.00 target price for the company in a research note on Tuesday, September 10th. Finally, ValuEngine cut shares of ONE Gas from a "buy" rating to a "hold" rating in a research note on Wednesday, October 2nd. Two investment analysts have rated the stock with a sell rating and three have assigned a hold rating to the company. The company currently has a consensus rating of "Hold" and an average target price of $89.33.
ONE Gas Company Profile
ONE Gas, Inc operates as a regulated natural gas distribution utility company in the United States. The company operates through three divisions: Oklahoma Natural Gas, Kansas Gas Service, and Texas Gas Service. It serves residential, commercial, and industrial and transportation customers, as well as provides natural gas distribution services to wholesale and public authority customers.
See Also: Return on Investment (ROI) Defined, Explained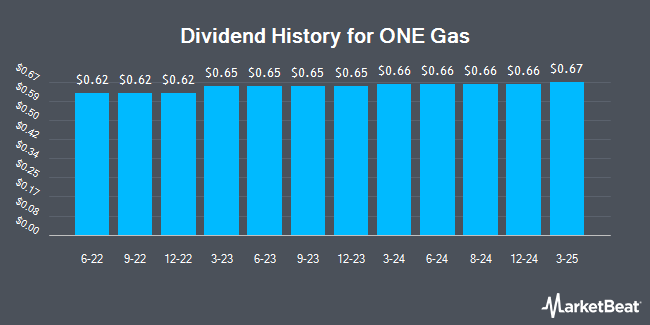 Receive News & Ratings for ONE Gas Daily - Enter your email address below to receive a concise daily summary of the latest news and analysts' ratings for ONE Gas and related companies with MarketBeat.com's FREE daily email newsletter.