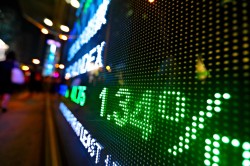 Richmond Mutual Bancorporation (NASDAQ:RMBI) was the recipient of a large drop in short interest in October. As of October 31st, there was short interest totalling 222,200 shares, a drop of 36.4% from the September 30th total of 349,100 shares. Approximately 1.7% of the shares of the stock are short sold. Based on an average daily volume of 106,700 shares, the short-interest ratio is currently 2.1 days.
In other Richmond Mutual Bancorporation news, Director Harold T. Hanley III purchased 10,000 shares of the company's stock in a transaction that occurred on Wednesday, November 6th. The stock was purchased at an average cost of $13.93 per share, with a total value of $139,300.00.
A hedge fund recently bought a new stake in Richmond Mutual Bancorporation stock. Rhumbline Advisers acquired a new stake in Richmond Mutual Bancorporation (NASDAQ:RMBI) during the third quarter, according to its most recent filing with the SEC. The firm acquired 11,180 shares of the company's stock, valued at approximately $156,000. Rhumbline Advisers owned about 0.08% of Richmond Mutual Bancorporation as of its most recent filing with the SEC. 0.56% of the stock is owned by hedge funds and other institutional investors.
RMBI stock
traded up $0.10 during midday trading on Friday, reaching $13.97. 29,600 shares of the company's stock traded hands, compared to its average volume of 118,027. The business has a 50-day moving average of $13.84. Richmond Mutual Bancorporation has a 1-year low of $12.75 and a 1-year high of $14.09.
Separately, ValuEngine raised Richmond Mutual Bancorporation from a "sell" rating to a "hold" rating in a report on Wednesday, October 2nd.
About Richmond Mutual Bancorporation
Richmond Mutual Bancorporation, Inc focuses on operating as a holding company for First Bank Richmond that provides various banking services. The company accepts various deposits, including savings deposit accounts, NOW and demand accounts, and certificates of deposit. It also offers a range of lending products, including multi-family and commercial real estate loans, commercial and industrial loans, construction and development loans, residential real estate loans, and consumer loans.
See Also: How the Dogs of the Dow Strategy Works
Receive News & Ratings for Richmond Mutual Bancorporation Daily - Enter your email address below to receive a concise daily summary of the latest news and analysts' ratings for Richmond Mutual Bancorporation and related companies with MarketBeat.com's FREE daily email newsletter.