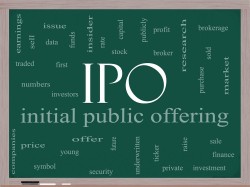 Canaan (CAN) is planning to raise $100 million in an initial public offering (IPO) on Thursday, November 21st, IPO Scoop reports. The company plans to issue 10,000,000 shares at a price of $9.00-$11.00 per share.
In the last 12 months, Canaan generated $148.1 million in revenue and had a net loss of $61.7 million. The company has a market-cap of $1.3 billion.
Citigroup, China Renaissance and CMBI served as the underwriters for the IPO and Galaxy Digital Advisors, Huatai Securities and Tiger Brokers were co-managers.
Canaan provided the following description of their company for its IPO: " We provide supercomputing solutions through our proprietary high performance computing ASICs. Our visionary management team has a clear strategy to commercialize supercomputing technology. In January 2013, Mr. Nangeng Zhang, our chairman and chief executive officer, and his team, invented and delivered one of the first Bitcoin mining machines incorporating ASIC technology. ".
Canaan was founded in 2013 and has 286 employees. The company is located at 30/F, Dicara Silver Tower, 29 Jiefang East Road, Jianggan District, Hangzhou, People's Republic of China and can be reached via phone at +86-571-8999-5063 or on the web at http://www.canaan-creative.com.
Receive News & Ratings for Canaan Daily - Enter your email address below to receive a concise daily summary of the latest news and analysts' ratings for Canaan and related companies with MarketBeat.com's FREE daily email newsletter.