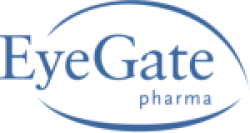 Eyegate Pharmaceuticals Inc (NASDAQ:EYEG) saw a significant drop in short interest in the month of October. As of October 31st, there was short interest totalling 15,200 shares, a drop of 14.1% from the September 30th total of 17,700 shares. Based on an average daily volume of 24,300 shares, the days-to-cover ratio is currently 0.6 days. Approximately 0.5% of the shares of the company are sold short.
NASDAQ:EYEG traded up $0.39 during mid-day trading on Friday, reaching $4.69. The stock had a trading volume of 33,300 shares, compared to its average volume of 25,303. Eyegate Pharmaceuticals has a 12 month low of $2.25 and a 12 month high of $8.85. The stock has a market capitalization of $15.64 million, a PE ratio of -1.04 and a beta of 2.16. The stock has a 50-day simple moving average of $3.56 and a two-hundred day simple moving average of $1.44.
In other news, major shareholder Armistice Capital Master Fund acquired 605,001 shares of the firm's stock in a transaction that occurred on Monday, September 30th. The shares were acquired at an average cost of $3.12 per share, with a total value of $1,887,603.12. 47.50% of the stock is currently owned by company insiders.
An institutional investor recently bought a new position in Eyegate Pharmaceuticals stock. Susquehanna International Group LLP purchased a new position in shares of Eyegate Pharmaceuticals Inc (NASDAQ:EYEG) during the 2nd quarter, according to its most recent 13F filing with the Securities and Exchange Commission (SEC). The fund purchased 222,297 shares of the specialty pharmaceutical company's stock, valued at approximately $53,000. Susquehanna International Group LLP owned about 0.49% of Eyegate Pharmaceuticals as of its most recent filing with the Securities and Exchange Commission (SEC).
Separately, ValuEngine cut shares of Eyegate Pharmaceuticals from a "buy" rating to a "hold" rating in a research note on Wednesday.
Eyegate Pharmaceuticals Company Profile
EyeGate Pharmaceuticals, Inc, a clinical-stage specialty pharmaceutical company, focuses on developing and commercializing products for treating diseases and disorders of the eye. Its proprietary platform technologies consist of crosslinked thiolated carboxymethyl hyaluronic acid (CMHA-S) and iontophoresis drug delivery system.
Recommended Story: What is the QQQ ETF?
Receive News & Ratings for Eyegate Pharmaceuticals Daily - Enter your email address below to receive a concise daily summary of the latest news and analysts' ratings for Eyegate Pharmaceuticals and related companies with MarketBeat.com's FREE daily email newsletter.