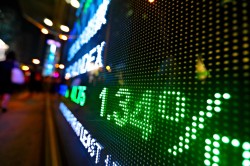 ValuEngine upgraded shares of Mitsubishi Heavy Industries (OTCMKTS:MHVYF) from a sell rating to a hold rating in a research note published on Tuesday, ValuEngine reports.
OTCMKTS:MHVYF traded down $0.89 during trading hours on Tuesday, reaching $39.17. The company's stock had a trading volume of 120 shares, compared to its average volume of 89. The company has a market cap of $13.46 billion, a price-to-earnings ratio of 14.30, a price-to-earnings-growth ratio of 0.48 and a beta of 4.11. The company has a debt-to-equity ratio of 0.36, a current ratio of 1.19 and a quick ratio of 0.89. Mitsubishi Heavy Industries has a one year low of $34.60 and a one year high of $44.72. The business's 50-day moving average is $39.88 and its 200-day moving average is $40.91.
Mitsubishi Heavy Industries (OTCMKTS:MHVYF) last released its quarterly earnings data on Thursday, October 31st. The company reported $0.36 earnings per share for the quarter. Mitsubishi Heavy Industries had a return on equity of 6.20% and a net margin of 2.57%. The company had revenue of $8.93 billion for the quarter, compared to analyst estimates of $7.92 billion. On average, sell-side analysts predict that Mitsubishi Heavy Industries will post 3.21 EPS for the current fiscal year.
About Mitsubishi Heavy Industries
Mitsubishi Heavy Industries, Ltd. manufactures and sells heavy machinery worldwide. It operates through Power Systems; Industry & Infrastructure; and Aircraft, Defense & Space segments. The company provides construction and after-sales services for various power generation facilities, including thermal, nuclear, and wind power plants; aircraft products, such as commercial aircraft and aero engines; and space systems, such as a H-IIA rocket, as well as products related to international space station programs.
Recommended Story: Penny Stocks, Risk and Reward Factors

To view ValuEngine's full report, visit ValuEngine's official website.
Receive News & Ratings for Mitsubishi Heavy Industries Daily - Enter your email address below to receive a concise daily summary of the latest news and analysts' ratings for Mitsubishi Heavy Industries and related companies with MarketBeat.com's FREE daily email newsletter.