Raven Industries (NASDAQ:RAVN) issued its quarterly earnings results on Tuesday. The conglomerate reported $0.28 EPS for the quarter, beating analysts' consensus estimates of $0.27 by $0.01, Yahoo Finance reports. The company had revenue of $100.53 million for the quarter. Raven Industries had a return on equity of 12.51% and a net margin of 9.76%.
Shares of RAVN stock opened at $34.50 on Thursday. The stock has a 50-day simple moving average of $34.03 and a 200 day simple moving average of $34.00. Raven Industries has a fifty-two week low of $27.32 and a fifty-two week high of $42.89. The stock has a market capitalization of $1.24 billion, a P/E ratio of 32.36 and a beta of 1.44.
A number of research analysts have recently commented on the company. ValuEngine raised Raven Industries from a "hold" rating to a "buy" rating in a report on Wednesday, October 2nd. BidaskClub cut Raven Industries from a "hold" rating to a "sell" rating in a research note on Tuesday, November 19th.
About Raven Industries
Raven Industries, Inc, a technology company, provides various products to customers in the industrial, agricultural, geomembrane, construction, commercial lighter-than-air, and aerospace and defense markets worldwide. It operates through three segments: Applied Technology, Engineered Films, and Aerostar.
Recommended Story: Short Selling Stocks and Day Traders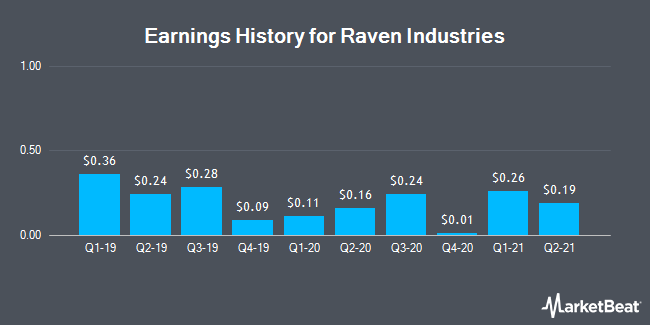 Receive News & Ratings for Raven Industries Daily - Enter your email address below to receive a concise daily summary of the latest news and analysts' ratings for Raven Industries and related companies with MarketBeat.com's FREE daily email newsletter.