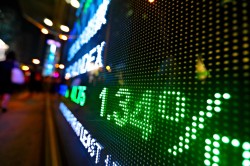 Alpha Real Trust Ltd (LON:ARTL) insider Jeff Chowdhry sold 5,000 shares of Alpha Real Trust stock in a transaction that occurred on Monday, December 2nd. The shares were sold at an average price of GBX 181 ($2.37), for a total value of £9,050 ($11,825.43).
Alpha Real Trust stock opened at GBX 185.50 ($2.42) on Tuesday. The company has a debt-to-equity ratio of 5.90, a current ratio of 18.00 and a quick ratio of 12.26. The business has a 50 day simple moving average of GBX 177.58 and a 200-day simple moving average of GBX 165.83. Alpha Real Trust Ltd has a 12 month low of GBX 2.03 ($0.03) and a 12 month high of GBX 188 ($2.46). The stock has a market capitalization of $110.29 million and a PE ratio of 5.59.
The company also recently disclosed a dividend, which will be paid on Friday, January 10th. Shareholders of record on Thursday, December 12th will be paid a GBX 1 ($0.01) dividend. This is a boost from Alpha Real Trust's previous dividend of $0.80. This represents a yield of 0.54%. The ex-dividend date of this dividend is Thursday, December 12th. Alpha Real Trust's payout ratio is currently 0.12%.
About Alpha Real Trust
Alpha Real Trust Limited specializes in investments in securities, services, and other related businesses. The fund seeks to invest in the United Kingdom and Europe.
Read More: The Role of a Fiduciary and Individual Investors
Receive News & Ratings for Alpha Real Trust Daily - Enter your email address below to receive a concise daily summary of the latest news and analysts' ratings for Alpha Real Trust and related companies with MarketBeat.com's FREE daily email newsletter.