NetEase Inc (NASDAQ:NTES) declared a quarterly dividend on Wednesday, November 20th, Zacks reports. Shareholders of record on Friday, December 6th will be given a dividend of 4.14 per share by the technology company on Friday, December 13th. This represents a $16.56 annualized dividend and a yield of 5.38%. The ex-dividend date of this dividend is Thursday, December 5th. This is a boost from NetEase's previous quarterly dividend of $1.04.
Shares of NTES stock traded down $5.75 on Tuesday, reaching $308.02. 13,800 shares of the stock were exchanged, compared to its average volume of 690,215. The stock has a market cap of $40.35 billion, a PE ratio of 44.92, a P/E/G ratio of 0.40 and a beta of 0.81. NetEase has a one year low of $209.01 and a one year high of $320.00. The stock has a 50 day moving average price of $293.71 and a 200 day moving average price of $265.94.
NTES has been the topic of several recent research reports. BidaskClub upgraded NetEase from a "sell" rating to a "hold" rating in a report on Saturday. Zacks Investment Research raised NetEase from a "hold" rating to a "buy" rating and set a $238.00 price objective for the company in a report on Thursday, August 8th. Benchmark upped their target price on shares of NetEase from $305.00 to $380.00 and gave the company a "positive" rating in a research report on Thursday, November 21st. Macquarie began coverage on shares of NetEase in a research note on Thursday, November 21st. They issued an "outperform" rating and a $363.00 target price on the stock. Finally, Tigress Financial began coverage on shares of NetEase in a research note on Friday, August 16th. They issued a "buy" rating on the stock. One analyst has rated the stock with a sell rating, three have assigned a hold rating and twelve have issued a buy rating to the company. The company has a consensus rating of "Buy" and a consensus price target of $307.55.
NetEase Company Profile
NetEase, Inc operates an interactive online community in the People's Republic of China. The company operates in four segments: Online Games Services, E-Commerce, Advertising Services, and Innovative Businesses and Other Services. It offers various games in a range of genres through mobile devices and PCs, including role-playing games, MMORPGs, battle arena games, simulation games, collectible card games, first-person shooter games, sandbox games, and other types of games to the Chinese market.
See Also: What is intrinsic value?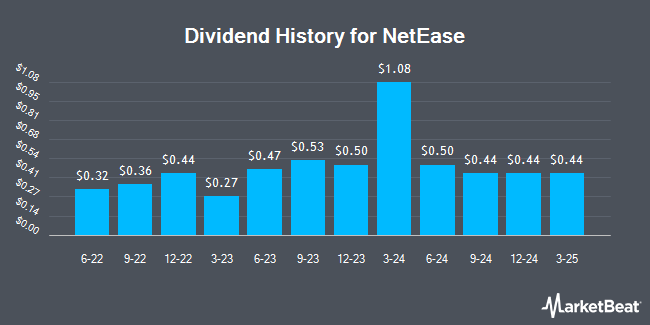 Receive News & Ratings for NetEase Daily - Enter your email address below to receive a concise daily summary of the latest news and analysts' ratings for NetEase and related companies with MarketBeat.com's FREE daily email newsletter.