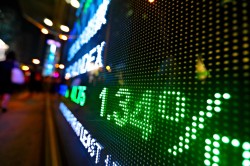 Crowdstrike (NASDAQ:CRWD) issued an update on its fourth quarter earnings guidance on Thursday morning. The company provided earnings per share (EPS) guidance of ($0.09-0.08) for the period, compared to the Thomson Reuters consensus estimate of ($0.11). The company issued revenue guidance of $135.9-138.6 million, compared to the consensus revenue estimate of $127.18 million.
A number of equities analysts have recently issued reports on the company. Macquarie upped their price target on Crowdstrike from $100.00 to $105.00 and gave the stock an outperform rating in a research report on Friday, September 6th. SunTrust Banks upgraded Crowdstrike from a hold rating to a buy rating and set a $80.00 target price on the stock in a research note on Wednesday, October 2nd. ValuEngine downgraded Crowdstrike from a buy rating to a hold rating in a research note on Wednesday, October 2nd. Goldman Sachs Group raised Crowdstrike from a sell rating to a neutral rating and reduced their target price for the company from $66.00 to $55.00 in a research report on Tuesday, November 12th. Finally, Nomura started coverage on Crowdstrike in a research note on Wednesday, October 23rd. They issued a buy rating and a $65.00 price target for the company. One analyst has rated the stock with a sell rating, eight have given a hold rating and fourteen have issued a buy rating to the company. The company currently has a consensus rating of Buy and an average target price of $78.42.
CRWD traded down $2.03 on Thursday, reaching $52.95. 3,501,400 shares of the stock were exchanged, compared to its average volume of 2,691,226. The firm's 50-day moving average is $51.84. Crowdstrike has a fifty-two week low of $44.58 and a fifty-two week high of $101.88.
Crowdstrike (NASDAQ:CRWD) last announced its quarterly earnings data on Thursday, September 5th. The company reported ($0.18) earnings per share for the quarter, beating analysts' consensus estimates of ($0.43) by $0.25. The firm had revenue of $108.10 million during the quarter, compared to analyst estimates of $103.79 million. Crowdstrike's revenue was up 94.1% compared to the same quarter last year. As a group, equities research analysts predict that Crowdstrike will post -1.06 EPS for the current fiscal year.
See Also: Overbought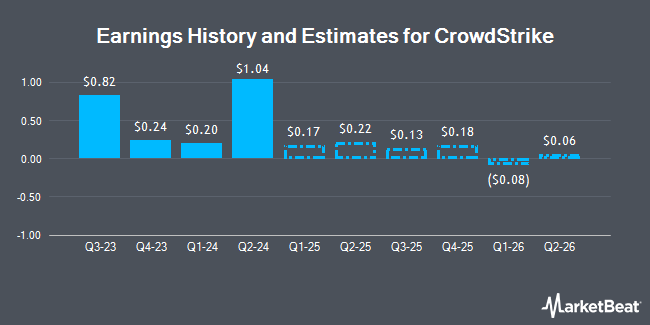 Receive News & Ratings for Crowdstrike Daily - Enter your email address below to receive a concise daily summary of the latest news and analysts' ratings for Crowdstrike and related companies with MarketBeat.com's FREE daily email newsletter.