Liberum Capital restated their buy rating on shares of Spirent Communications (LON:SPT) in a research note published on Friday morning, ThisIsMoney.Co.Uk reports.
Other research analysts have also issued research reports about the company. UBS Group reiterated a neutral rating and set a GBX 195 ($2.55) price target (up previously from GBX 155 ($2.03)) on shares of Spirent Communications in a research report on Friday, November 1st. Barclays reissued an equal weight rating on shares of Spirent Communications in a research note on Friday, October 11th. Finally, Canaccord Genuity lowered Spirent Communications to a hold rating and raised their price target for the company from GBX 200 ($2.61) to GBX 205 ($2.68) in a report on Monday, September 30th. Five equities research analysts have rated the stock with a hold rating and two have assigned a buy rating to the company. Spirent Communications has an average rating of Hold and an average target price of GBX 184 ($2.40).
SPT opened at GBX 216.50 ($2.83) on Friday. Spirent Communications has a 12 month low of GBX 110.80 ($1.45) and a 12 month high of GBX 222 ($2.90). The company has a debt-to-equity ratio of 9.34, a current ratio of 2.08 and a quick ratio of 1.87. The stock has a market cap of $1.32 billion and a P/E ratio of 23.03. The stock's 50 day moving average price is GBX 207.33 and its 200 day moving average price is GBX 180.55.
In other news, insider Paula Bell sold 123,182 shares of the company's stock in a transaction that occurred on Monday, September 30th. The shares were sold at an average price of GBX 198 ($2.59), for a total value of £243,900.36 ($318,699.02).
Spirent Communications Company Profile
Spirent Communications plc provides solutions to develop devices and equipment and to operate networks worldwide. The company operates through Networks & Security, Lifecycle Service Assurance, and Connected Devices segments. The Networks & Security segment develops performance and security test systems to accelerate the development of new devices, networks, and applications for high-speed Ethernet/IP, mobile, and global satellite navigation systems.
Featured Article: Inverted Yield Curve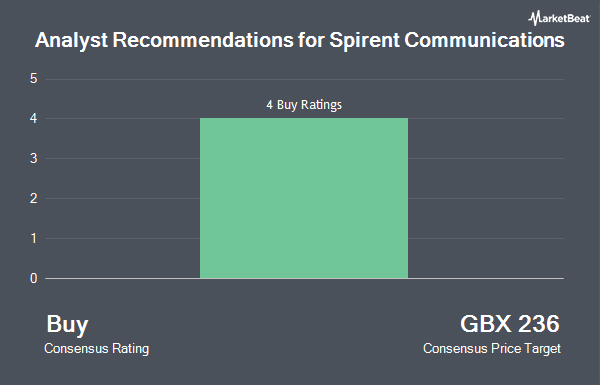 Receive News & Ratings for Spirent Communications Daily - Enter your email address below to receive a concise daily summary of the latest news and analysts' ratings for Spirent Communications and related companies with MarketBeat.com's FREE daily email newsletter.