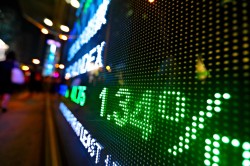 Dougherty & Co began coverage on shares of Allied Esports Entertainment (NASDAQ:AESE) in a research report report published on Wednesday, The Fly reports. The brokerage issued a buy rating on the stock.
Separately, ValuEngine upgraded Allied Esports Entertainment from a hold rating to a buy rating in a report on Wednesday, October 2nd.
NASDAQ:AESE traded up $0.04 during trading hours on Wednesday, hitting $2.84. 1,901 shares of the company were exchanged, compared to its average volume of 24,537. Allied Esports Entertainment has a one year low of $2.44 and a one year high of $10.81. The company has a fifty day simple moving average of $3.72 and a 200 day simple moving average of $6.66.
Allied Esports Entertainment (NASDAQ:AESE) last issued its quarterly earnings results on Tuesday, November 12th. The company reported ($0.24) earnings per share for the quarter. The business had revenue of $6.04 million during the quarter.
A hedge fund recently bought a new stake in Allied Esports Entertainment stock. Millennium Management LLC purchased a new position in shares of Allied Esports Entertainment (NASDAQ:AESE) in the third quarter, according to its most recent filing with the SEC. The firm purchased 92,016 shares of the company's stock, valued at approximately $481,000. Millennium Management LLC owned 0.40% of Allied Esports Entertainment at the end of the most recent quarter. 8.75% of the stock is currently owned by hedge funds and other institutional investors.
Recommended Story: How does quantitative easing work?

Receive News & Ratings for Allied Esports Entertainment Daily - Enter your email address below to receive a concise daily summary of the latest news and analysts' ratings for Allied Esports Entertainment and related companies with MarketBeat.com's FREE daily email newsletter.