Tailored Brands (NYSE:TLRD) issued an update on its fourth quarter earnings guidance on Wednesday morning. The company provided EPS guidance of (0.55)-(0.50) for the period, compared to the Thomson Reuters consensus EPS estimate of ($0.36). Tailored Brands also updated its Q4 2019
After-Hours guidance to $-0.55–0.5 EPS.
Shares of NYSE:TLRD traded down $0.43 on Wednesday, reaching $4.85. The company's stock had a trading volume of 6,930,000 shares, compared to its average volume of 2,554,392. The company has a 50-day simple moving average of $5.09 and a 200 day simple moving average of $5.11. Tailored Brands has a 52-week low of $3.70 and a 52-week high of $20.68. The company has a debt-to-equity ratio of 418.48, a quick ratio of 0.22 and a current ratio of 1.46. The company has a market cap of $260.30 million, a P/E ratio of 2.10 and a beta of 1.84.
Tailored Brands (NYSE:TLRD) last announced its earnings results on Wednesday, September 11th. The company reported $0.82 earnings per share (EPS) for the quarter, beating the consensus estimate of $0.74 by $0.08. Tailored Brands had a net margin of 1.94% and a return on equity of 2,629.06%. The firm had revenue of $789.50 million for the quarter, compared to analysts' expectations of $788.98 million. During the same period in the prior year, the company earned $1.07 EPS. The business's revenue was down 4.1% compared to the same quarter last year. On average, equities research analysts forecast that Tailored Brands will post 1.11 EPS for the current fiscal year.
Several equities research analysts have weighed in on TLRD shares. B. Riley boosted their price objective on Tailored Brands from $5.00 to $6.00 and gave the stock a neutral rating in a research note on Thursday, September 12th.
Zacks Investment Research
upgraded Tailored Brands from a hold rating to a buy rating and set a $5.75 price objective on the stock in a research report on Friday, November 15th. Finally,
ValuEngine
raised Tailored Brands from a hold rating to a buy rating in a research note on Tuesday, December 3rd. Three equities research analysts have rated the stock with a hold rating and two have issued a buy rating to the company. The company has an average rating of Hold and a consensus target price of $11.92.
In other news, EVP A Alexander Rhodes purchased 13,369 shares of the company's stock in a transaction that occurred on Thursday, October 10th. The stock was purchased at an average cost of $3.87 per share, with a total value of $51,738.03. Following the purchase, the executive vice president now owns 56,255 shares in the company, valued at $217,706.85. The purchase was disclosed in a document filed with the Securities & Exchange Commission, which is available through the SEC website. Also, insider Carrie Ann Ask purchased 17,000 shares of the business's stock in a transaction that occurred on Thursday, October 10th. The shares were purchased at an average price of $3.78 per share, for a total transaction of $64,260.00. Following the completion of the acquisition, the insider now directly owns 37,099 shares in the company, valued at approximately $140,234.22. The disclosure for this purchase can be found here. Over the last 90 days, insiders purchased 69,369 shares of company stock valued at $291,598. 2.60% of the stock is owned by corporate insiders.
Tailored Brands Company Profile
Tailored Brands, Inc operates as a specialty apparel retailer the United States, Puerto Rico, and Canada. It operates through two segments, Retail and Corporate Apparel. The Retail segment offers suits, suit separates, sport coats, slacks, formalwear, business casual, denim, sportswear, outerwear, dress shirts, shoes, and accessories for men.
Recommended Story: Can systematic risk be avoided?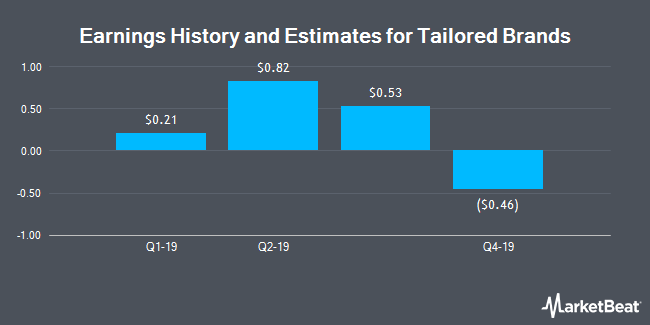 Receive News & Ratings for Tailored Brands Daily - Enter your email address below to receive a concise daily summary of the latest news and analysts' ratings for Tailored Brands and related companies with MarketBeat.com's FREE daily email newsletter.