Endo International (NASDAQ:ENDP) (TSE:ENL) updated its FY 2020
Pre-Market earnings guidance on Wednesday. The company provided earnings per share (EPS) guidance of 2.15-2.40 for the period, compared to the Thomson Reuters consensus estimate of $2.25. The company issued revenue guidance of $2.72-2.92 billion, compared to the consensus revenue estimate of $2.9 billion.Endo International also updated its FY20 guidance to $2.15-2.40 EPS.
NASDAQ ENDP traded down $0.17 during mid-day trading on Friday, reaching $5.46. 168,040 shares of the company's stock traded hands, compared to its average volume of 6,695,929. Endo International has a 1-year low of $1.97 and a 1-year high of $12.49. The company has a fifty day simple moving average of $5.92 and a 200-day simple moving average of $4.47. The company has a market cap of $1.44 billion, a price-to-earnings ratio of -2.94 and a beta of 1.48.
Endo International (NASDAQ:ENDP) (TSE:ENL) last issued its quarterly earnings data on Wednesday, February 26th. The company reported $0.74 earnings per share for the quarter, beating analysts' consensus estimates of $0.57 by $0.17. Endo International had a negative return on equity of 94.74% and a negative net margin of 14.50%. The firm had revenue of $764.80 million during the quarter, compared to analyst estimates of $730.15 million. During the same quarter last year, the firm earned $0.75 EPS. Endo International's quarterly revenue was down 2.7% on a year-over-year basis. Equities analysts expect that Endo International will post 2.25 earnings per share for the current year.
ENDP has been the subject of a number of recent analyst reports. BidaskClub upgraded Endo International from a hold rating to a buy rating in a research note on Friday, February 7th. Piper Jaffray Companies raised Endo International from a neutral rating to an overweight rating and increased their target price for the stock from $5.00 to $7.00 in a report on Friday, January 3rd. Finally,
ValuEngine
raised Endo International from a hold rating to a buy rating in a report on Wednesday, February 12th. Two analysts have rated the stock with a sell rating, nine have assigned a hold rating and five have issued a buy rating to the stock. Endo International currently has a consensus rating of Hold and a consensus price target of $7.38.
Endo International Company Profile
Endo International plc, a specialty pharmaceutical company, manufactures and sells generic and branded pharmaceuticals in the United States, Canada, and internationally. The company operates through three segments: U.S. Generic Pharmaceuticals, U.S. Branded Pharmaceuticals, and International Pharmaceuticals.
Further Reading: The limitations of an equal weight rating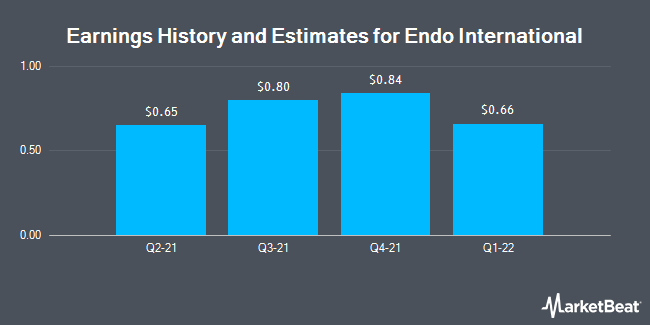 Receive News & Ratings for Endo International Daily - Enter your email address below to receive a concise daily summary of the latest news and analysts' ratings for Endo International and related companies with MarketBeat.com's FREE daily email newsletter.