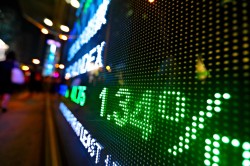 Afterpay Touch Group Ltd (ASX:APT) insider Patrick (Pat) O'Sullivan acquired 7,169 shares of Afterpay Touch Group stock in a transaction on Friday, March 20th. The shares were purchased at an average price of A$13.97 ($9.90) per share, with a total value of A$100,115.09 ($71,003.61).
ASX:APT traded up A$4.41 ($3.13) on Thursday, reaching A$19.41 ($13.77). 14,388,346 shares of the stock traded hands. The company has a market capitalization of $3.97 billion and a price-to-earnings ratio of -94.68. The company has a current ratio of 11.03, a quick ratio of 10.68 and a debt-to-equity ratio of 49.60. Afterpay Touch Group Ltd has a 12 month low of A$19.28 ($13.67) and a 12 month high of A$41.14 ($29.18). The company's fifty day simple moving average is A$30.65 and its 200 day simple moving average is A$31.47.
Afterpay Touch Group Company Profile
Afterpay Touch Group Limited operates as a payments company in Australia. The company offers a customer centric, omni channel retail service that facilitates commerce between retail merchants and their end-customers through a platform, which allows retail merchants to offer customers the ability to buy products on a 'buy now, receive now, pay later' basis.
Further Reading: What Is An Exchange-Traded Fund (ETF)?
Receive News & Ratings for Afterpay Touch Group Daily - Enter your email address below to receive a concise daily summary of the latest news and analysts' ratings for Afterpay Touch Group and related companies with MarketBeat.com's FREE daily email newsletter.