Houlihan Lokey Inc (NYSE:HLI) announced a quarterly dividend on Tuesday, July 28th, Zacks reports. Stockholders of record on Wednesday, September 2nd will be paid a dividend of 0.33 per share by the financial services provider on Tuesday, September 15th. This represents a $1.32 annualized dividend and a dividend yield of 2.43%. The ex-dividend date is Tuesday, September 1st. This is a positive change from Houlihan Lokey's previous quarterly dividend of $0.31.
Houlihan Lokey has raised its dividend payment by an average of 81.8% per year over the last three years and has increased its dividend annually for the last 4 consecutive years. Houlihan Lokey has a dividend payout ratio of 38.8% indicating that its dividend is sufficiently covered by earnings. Analysts expect Houlihan Lokey to earn $3.80 per share next year, which means the company should continue to be able to cover its $1.24 annual dividend with an expected future payout ratio of 32.6%.
NYSE:HLI traded down $0.91 on Thursday, reaching $54.25. The stock had a trading volume of 5,347 shares, compared to its average volume of 395,949. The stock has a fifty day moving average price of $56.81 and a 200-day moving average price of $55.36. Houlihan Lokey has a 1-year low of $41.80 and a 1-year high of $64.84. The company has a market capitalization of $3.66 billion, a P/E ratio of 19.24 and a beta of 0.71. The company has a quick ratio of 0.98, a current ratio of 0.98 and a debt-to-equity ratio of 0.16.
Houlihan Lokey (NYSE:HLI) last announced its quarterly earnings data on Tuesday, July 28th. The financial services provider reported $0.56 earnings per share for the quarter, beating the Thomson Reuters' consensus estimate of $0.49 by $0.07. The business had revenue of $211.14 million for the quarter, compared to analyst estimates of $230.98 million. Houlihan Lokey had a net margin of 16.70% and a return on equity of 21.69%. Houlihan Lokey's revenue was down 15.7% compared to the same quarter last year. During the same period in the prior year, the business posted $0.67 earnings per share. Sell-side analysts predict that Houlihan Lokey will post 2.28 earnings per share for the current fiscal year.
In other news, CEO Scott L. Beiser sold 10,000 shares of the stock in a transaction on Wednesday, June 17th. The shares were sold at an average price of $60.19, for a total value of $601,900.00. Following the transaction, the chief executive officer now owns 10,000 shares of the company's stock, valued at approximately $601,900. The sale was disclosed in a legal filing with the Securities & Exchange Commission, which is available through this link. 38.23% of the stock is owned by insiders.
A number of analysts have recently commented on the company. Zacks Investment Research lowered Houlihan Lokey from a "strong-buy" rating to a "hold" rating in a report on Wednesday, April 15th. Morgan Stanley increased their price target on shares of Houlihan Lokey from $58.00 to $62.00 and gave the company an "equal weight" rating in a report on Wednesday, May 13th. ValuEngine cut Houlihan Lokey from a "hold" rating to a "sell" rating in a report on Thursday, July 2nd. UBS Group lifted their target price on Houlihan Lokey from $55.00 to $66.00 and gave the company a "buy" rating in a research report on Wednesday, May 13th. Finally, Wolfe Research assumed coverage on shares of Houlihan Lokey in a research note on Wednesday, July 22nd. They issued a "peer perform" rating and a $60.00 price objective on the stock. One analyst has rated the stock with a sell rating, four have issued a hold rating and two have issued a buy rating to the stock. Houlihan Lokey presently has an average rating of "Hold" and an average target price of $59.71.
About Houlihan Lokey
Houlihan Lokey, Inc, an investment banking company, provides merger and acquisition (M&A), financing, financial restructuring, and financial advisory services worldwide. It operates in three segments: Corporate Finance, Financial Restructuring, and Financial Advisory Services. The Corporate Finance segment offers general financial advisory services; and advises public and private institutions on buy-side and sell-side transactions, leveraged loans, private mezzanine debt, high-yield debt, initial public offerings, follow-ons, convertibles, equity private placements, private equity, and liability management transactions, as well as financial sponsors on various transactions.
Recommended Story: Trade War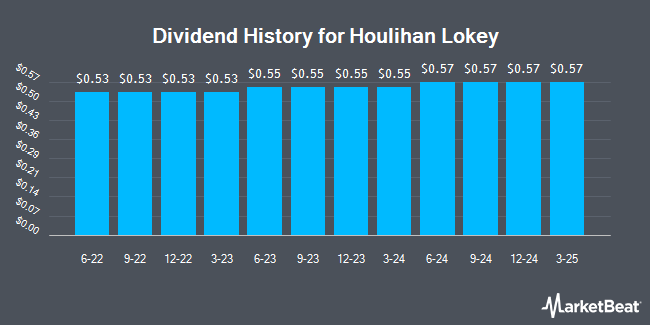 Receive News & Ratings for Houlihan Lokey Daily - Enter your email address below to receive a concise daily summary of the latest news and analysts' ratings for Houlihan Lokey and related companies with MarketBeat.com's FREE daily email newsletter.