NorthWestern Corp (NYSE:NWE) declared a quarterly dividend on Tuesday, July 28th, Zacks reports. Investors of record on Tuesday, September 15th will be paid a dividend of 0.60 per share by the utilities provider on Wednesday, September 30th. This represents a $2.40 annualized dividend and a dividend yield of 4.31%. The ex-dividend date of this dividend is Monday, September 14th.
NorthWestern has increased its dividend by an average of 15.0% per year over the last three years and has increased its dividend annually for the last 11 consecutive years. NorthWestern has a dividend payout ratio of 72.1% indicating that its dividend is sufficiently covered by earnings. Equities analysts expect NorthWestern to earn $3.50 per share next year, which means the company should continue to be able to cover its $2.40 annual dividend with an expected future payout ratio of 68.6%.
Shares of NYSE:NWE traded down $0.79 during midday trading on Thursday, reaching $55.62. The company's stock had a trading volume of 4,994 shares, compared to its average volume of 312,385. NorthWestern has a 1 year low of $45.06 and a 1 year high of $80.52. The company has a quick ratio of 0.80, a current ratio of 0.95 and a debt-to-equity ratio of 1.09. The business has a 50 day moving average price of $54.72 and a 200 day moving average price of $63.03. The firm has a market cap of $2.83 billion, a price-to-earnings ratio of 17.63, a price-to-earnings-growth ratio of 4.92 and a beta of 0.34.
NorthWestern (NYSE:NWE) last issued its quarterly earnings data on Tuesday, July 28th. The utilities provider reported $0.43 EPS for the quarter, missing analysts' consensus estimates of $0.50 by ($0.07). NorthWestern had a return on equity of 7.91% and a net margin of 12.74%. The firm had revenue of $269.36 million during the quarter, compared to analyst estimates of $252.41 million. During the same quarter in the prior year, the firm earned $0.50 EPS. The business's quarterly revenue was down .5% compared to the same quarter last year. Sell-side analysts anticipate that NorthWestern will post 3.35 earnings per share for the current fiscal year.
In other NorthWestern news, CEO Robert C. Rowe sold 1,000 shares of the business's stock in a transaction that occurred on Wednesday, May 6th. The shares were sold at an average price of $55.45, for a total transaction of $55,450.00. The transaction was disclosed in a filing with the SEC, which is available at this link. 1.17% of the stock is owned by company insiders.
NWE has been the topic of a number of recent research reports. Zacks Investment Research cut shares of NorthWestern from a "hold" rating to a "sell" rating in a report on Tuesday, June 9th. TheStreet downgraded NorthWestern from a "b-" rating to a "c+" rating in a report on Monday, July 20th. Barclays upgraded NorthWestern from an "underweight" rating to an "equal weight" rating and set a $66.00 price objective for the company in a research report on Tuesday, April 21st. Credit Suisse Group raised NorthWestern from an "underperform" rating to a "neutral" rating and dropped their target price for the stock from $77.00 to $64.00 in a research report on Monday, April 20th. Finally, Wells Fargo & Co reduced their price target on shares of NorthWestern from $65.00 to $63.00 and set an "overweight" rating for the company in a report on Wednesday, June 17th. One analyst has rated the stock with a sell rating, five have assigned a hold rating and two have issued a buy rating to the company's stock. NorthWestern has a consensus rating of "Hold" and a consensus price target of $65.14.
About NorthWestern
NorthWestern Corporation, doing business as NorthWestern Energy, provides electricity and natural gas to residential, commercial, and industrial customers. The company operates through Electric Operations and Natural Gas Operations segments. It generates, transmits, and distributes electricity; and produces, stores, transmits, and distributes natural gas, as well as owns municipal franchises to provide natural gas service in the communities.
Featured Story: When can a hold rating present a buying opportunity?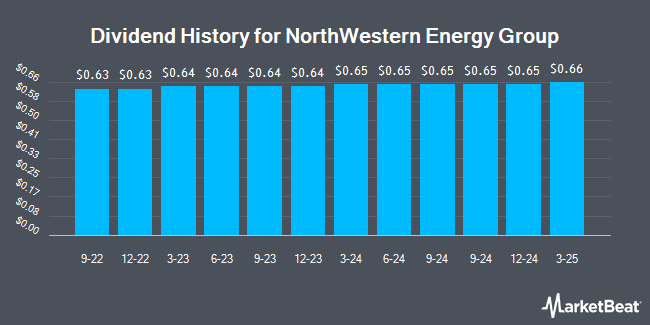 Receive News & Ratings for NorthWestern Daily - Enter your email address below to receive a concise daily summary of the latest news and analysts' ratings for NorthWestern and related companies with MarketBeat.com's FREE daily email newsletter.