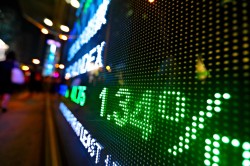 Fidelity D&D Bancorp (NASDAQ:FDBC) declared a quarterly dividend on Friday, July 31st, Wall Street Journal reports. Stockholders of record on Thursday, August 20th will be paid a dividend of 0.28 per share by the financial services provider on Thursday, September 10th. This represents a $1.12 annualized dividend and a dividend yield of 2.45%. The ex-dividend date is Wednesday, August 19th.
Fidelity D&D Bancorp has raised its dividend payment by an average of 28.2% per year over the last three years and has increased its dividend every year for the last 2 years.
Shares of NASDAQ:FDBC opened at $45.66 on Friday. Fidelity D&D Bancorp has a 12 month low of $30.50 and a 12 month high of $70.00. The firm has a market capitalization of $184.38 million, a P/E ratio of 20.29 and a beta of 0.05. The company has a debt-to-equity ratio of 0.19, a current ratio of 0.86 and a quick ratio of 0.86. The company's fifty day moving average price is $47.37 and its 200 day moving average price is $47.29.
Fidelity D&D Bancorp (NASDAQ:FDBC) last issued its quarterly earnings data on Wednesday, April 29th. The financial services provider reported $0.76 earnings per share (EPS) for the quarter. Fidelity D&D Bancorp had a return on equity of 8.61% and a net margin of 16.45%. The company had revenue of $10.76 million for the quarter.
In other Fidelity D&D Bancorp news, CEO Daniel J. Santaniello bought 1,000 shares of the stock in a transaction dated Wednesday, May 13th. The shares were acquired at an average cost of $32.50 per share, for a total transaction of $32,500.00. 26.89% of the stock is currently owned by corporate insiders.
About Fidelity D&D Bancorp
Fidelity D & D Bancorp, Inc operates as the holding company for The Fidelity Deposit and Discount Bank, a state chartered commercial bank that provides a range of banking, financial, and trust services to individuals, small businesses, and corporate customers primarily in Lackawanna and Luzerne counties in Pennsylvania.
Recommended Story: Strangles
Receive News & Ratings for Fidelity D&D Bancorp Daily - Enter your email address below to receive a concise daily summary of the latest news and analysts' ratings for Fidelity D&D Bancorp and related companies with MarketBeat.com's FREE daily email newsletter.