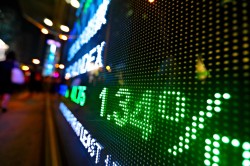 Piper Sandler Companies (NYSE:PIPR) shares traded down 5.6% during mid-day trading on Friday . The stock traded as low as $57.76 and last traded at $61.91, 205,625 shares traded hands during trading. An increase of 79% from the average session volume of 114,978 shares. The stock had previously closed at $65.61.
Separately, JMP Securities raised shares of Piper Sandler Companies from a "market perform" rating to an "outperform" rating and set a $68.00 price objective for the company in a research report on Friday, July 10th.
The stock has a market capitalization of $1.11 billion, a PE ratio of 7.80 and a beta of 1.36. The company has a quick ratio of 0.27, a current ratio of 1.38 and a debt-to-equity ratio of 0.22. The company's 50-day simple moving average is $60.56.
Piper Sandler Companies (NYSE:PIPR) last posted its quarterly earnings results on Friday, May 1st. The company reported $1.48 earnings per share for the quarter, beating the Thomson Reuters' consensus estimate of $1.25 by $0.23. Piper Sandler Companies had a return on equity of 14.01% and a net margin of 8.58%. The business had revenue of $240.38 million for the quarter, compared to the consensus estimate of $245.30 million. As a group, analysts anticipate that Piper Sandler Companies will post 4.07 EPS for the current fiscal year.
About Piper Sandler Companies (NYSE:PIPR)
Piper Sandler Companies operates as an investment bank and asset management firm that serves corporations, private equity groups, public entities, non-profit entities, and institutional investors in the United States and internationally. The company's Capital Markets segment offers investment banking and institutional sales, trading, and research services for various equity and fixed income products.
Featured Story: The risks of owning bonds
Receive News & Ratings for Piper Sandler Companies Daily - Enter your email address below to receive a concise daily summary of the latest news and analysts' ratings for Piper Sandler Companies and related companies with MarketBeat.com's FREE daily email newsletter.