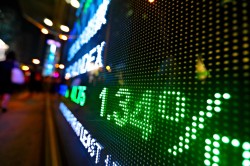 Shares of Parsons Co. (NYSE:PSN) have received a consensus recommendation of "Hold" from the eight brokerages that are presently covering the company, Marketbeat Ratings reports. Two research analysts have rated the stock with a sell rating, one has given a hold rating and five have issued a buy rating on the company. The average 12-month target price among brokers that have covered the stock in the last year is $41.00.
Several analysts have recently issued reports on PSN shares. Stifel Nicolaus reduced their price objective on Parsons from $45.00 to $43.00 and set a "buy" rating on the stock in a research report on Thursday, August 6th. Zacks Investment Research lowered shares of Parsons from a "hold" rating to a "sell" rating in a report on Saturday, August 22nd.
Shares of PSN opened at $33.37 on Thursday. Parsons has a 12-month low of $24.67 and a 12-month high of $45.40. The stock has a market cap of $3.36 billion, a P/E ratio of 31.19 and a beta of 1.17. The company has a current ratio of 1.41, a quick ratio of 1.41 and a debt-to-equity ratio of 0.26. The company has a 50-day moving average of $34.27 and a two-hundred day moving average of $35.80.
Parsons (NYSE:PSN) last issued its quarterly earnings data on Wednesday, August 5th. The company reported $0.49 earnings per share for the quarter, topping the Zacks' consensus estimate of $0.48 by $0.01. Parsons had a net margin of 2.66% and a return on equity of 16.48%. The business had revenue of $979.00 million during the quarter, compared to analysts' expectations of $987.92 million. During the same period last year, the company posted $0.43 EPS. The company's revenue was down 1.1% on a year-over-year basis. As a group, analysts forecast that Parsons will post 1.87 EPS for the current fiscal year.
In other Parsons news, COO Carey A. Smith purchased 7,500 shares of the firm's stock in a transaction on Monday, August 10th. The shares were purchased at an average cost of $35.38 per share, with a total value of $265,350.00. Following the purchase, the chief operating officer now owns 10,550 shares in the company, valued at $373,259. The transaction was disclosed in a filing with the Securities & Exchange Commission, which is accessible through this link. Corporate insiders own 0.15% of the company's stock.
Hedge funds have recently modified their holdings of the stock. Denali Advisors LLC boosted its holdings in shares of Parsons by 147.9% in the 3rd quarter. Denali Advisors LLC now owns 47,600 shares of the company's stock valued at $1,597,000 after purchasing an additional 28,400 shares during the last quarter. PFG Advisors purchased a new position in shares of Parsons in the 3rd quarter worth $275,000. Brookstone Capital Management acquired a new position in Parsons in the third quarter valued at $600,000. Envestnet Asset Management Inc. grew its position in Parsons by 68.8% during the third quarter. Envestnet Asset Management Inc. now owns 52,754 shares of the company's stock valued at $1,769,000 after acquiring an additional 21,500 shares during the period. Finally, State of Alaska Department of Revenue acquired a new stake in Parsons during the third quarter worth about $137,000. 99.76% of the stock is owned by hedge funds and other institutional investors.
Parsons Company Profile
Parsons Corporation provides technology based solutions in the defense, intelligence, and critical infrastructure markets in North America, the Middle East, and internationally. It operates in two segments, Federal Solutions and Critical Infrastructure. The company offers cybersecurity software and engineering services, hardware prototyping, and other technical services to the U.S.
Featured Story: What causes a yield curve to invert?
Receive News & Ratings for Parsons Daily - Enter your email address below to receive a concise daily summary of the latest news and analysts' ratings for Parsons and related companies with MarketBeat.com's FREE daily email newsletter.