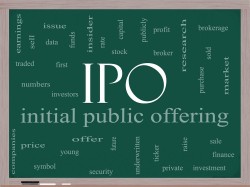 Yatsen Holding Limited (YSG) plans to raise $559 million in an IPO on Thursday, November 19th, IPO Scoop reports. The company will issue 58,800,000 shares at $8.50-$10.50 per share.
In the last 12 months, Yatsen Holding Limited generated $446.4 million in revenue and had a net loss of $11.1 million.
Goldman Sachs, Morgan Stanley and CICC served as the underwriters for the IPO and China Renaissance, FUTU and Tiger Brokers were co-managers.
Yatsen Holding Limited provided the following description of their company for its IPO: "Yatsen is a leader in the rapidly evolving China beauty market. Founded in 2016, we have launched three fast-growing, successful color cosmetics and skincare brands: Perfect Diary, Little Ondine, and Abby's Choice. Together, these three brands served 23.4 million and 23.5 million DTC (direct-to-consumer) customers in 2019 and the nine months ended Sept. 30, 2020, respectively. Our first brand, Perfect Diary, launched in 2017, became the top color cosmetics brand in China in terms of online retail sales value three years after launch, according to the CIC Report. (CIC stands for China Insights Consultancy; the CIC Report is dated August 2020.) This success is due to our digitally native DTC business model that is new to China's beauty industry. Through this model, we focus on deep customer engagement, innovative product development and personalized services. (Note: Revenue and net loss figures are for 2019, according to the prospectus.) ".
Yatsen Holding Limited was founded in 2016 and has 3355 employees. The company is located at 32-35, 38/F, Poly Midtown Plaza No.23 East Xuanyue Street, Haizhu District Guangzhou 510330 People's Republic of China and can be reached via phone at +86 20-3837 3543 or on the web at http://www.perfectdiary.com/.
Receive News & Ratings for Yatsen Holding Limited Daily - Enter your email address below to receive a concise daily summary of the latest news and analysts' ratings for Yatsen Holding Limited and related companies with MarketBeat.com's FREE daily email newsletter.